17th Enjoy Jazz Festival – From Hugh Masekela to Archie Shepp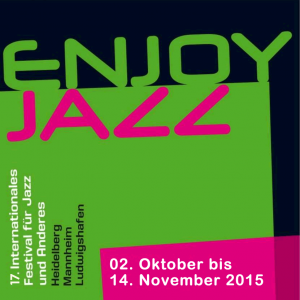 So Gina took some days off and when we came back, we were delighted to see this year's Enjoy Jazz Festival line-up. The Festival for the Mannheim-Ludwigshafen-Heidelberg area (Rhein-Neckar) runs from October 2nd until November 14th and features – again – a lot of acts and something for everyone.
The opening concert will feature South African legend Hugh Masekela with his signature trumpet sound mixing several African styles to an exciting melange. Also performing this year are Brad Mehldau in a solo performance (October 7th, Christuskirche Mannheim), Norwegian trumpeter Mathias Eick who released a fantastic album this year ("Midwest", October 12th, dasHaus, Ludwigshafen), the David Murray Infinity Quartet featuring Saul Williams, spoken word artist (October 14th, Alte Feuerwache, Mannheim), or, also from Norway, the Eivind Aarset 4tet (October 15th, Karlstorbahnhof, Heidelberg).
There is a lot more to explore like the Jakob Bro Trio, a matinee with ACT Music founder Siggi Loch who turned 75 this year, Nicole Johänntgen, Snarky Puppy, the Children of the Light Trio with Danilo Pérez, John Patitucci, and Brian Blade, Aaron Goldberg Trio with Reuben Rogers and Eric Harland, Michael Wollny & Gary Peacock in an exclusive concert, Curtis Harding, Vincent Peirani & Emile Parisien, Nils Petter Molvaer, Nik Bärtsch, Kamasi Washington, James Farm, Mark Turner Quartet, Lee Konitz & Florian Weber, Cécile McLorin Salvant, Marcin Wasilewski Trio feat. Joakim Milder.
The final concert will feature Archie Shepp's Attica Blues, a re-work of his early 70s album of the same name which was his reaction to the Attica Prison Riots and which he re-models for a 2015 version with, among others, Amina Claudine Myers, Famoudou Don Moye, and Darryl Hall (November 14th at Feierabendhaus, Ludwigshafen).
All info about the Festival including tickets can be found here: www.enjoyjazz.de
Follow:
Share: