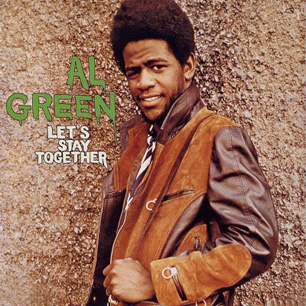 There are soul singers, soul preachers, soul crooners, and then there is Al Green. The wonder that is "Let's Stay Together", his number 1 hit from 1971, is still intoxicating and enthralling over 40 years later. Pieces like ""I'm Still In Love With You" (1972) or "Here I Am" (1973), "L-O-V-E" (1975) or "Keep Me Cryin'" (1976) are masterpieces up to this day.
And all belong to the preaching, wailing vocals of Reverend Al Green, who celebrates his 70th birthday today. The fact that there is hardly any dull cover version of one of his tracks around, speaks for the man and his repertoire (listen to Roberta Flack's version of "Let's Stay Together" from her 1994 album "Roberta", pure bliss).
Al Green had his first charted hit record in 1967 with "Back Up Train", recorded as Al Greene & The Soul Mates. After a 10-year break on the charts and numerous hit records during the 70s, he returned in 1988 in a duet with Annie Lennox on "Put A Little Love In Your Heart" from the soundtrack to the movie "Scrooged". For most of the decade, he had recorded Gospel albums which didn't make much of an impact.
Most of the 70s records were produced by Willie Mitchell who was also at the helm of another of Al's comebacks in 2003 on Blue Note Records. The album was recorded at the legendary Hi studios and found Al Green in perfect, pure joy-spreading form. The dream team worked again on the follow-up 2005 album "Everything's OK" and for the latest record, the 2007 "Lay It Down", Ahmir "?uestlove" Thompson from the Roots and James Poyser got an even more grittier and groovier sound out of the soul icon and had him duetting with artists like John Legend, Corinne Bailey Rae, or Anthony Hamilton.
But I always return to "Let's Stay Together", the signature song that was also used in Quentin Tarantino's "Pulp Fiction" and by Barack Obama in 2012 where he sang it briefly during a campaign that included Al Green as an opening act. After this happened, sales of the recording increased by almost 500%. There was also a fair-enough, very successful cover version of the song recorded by Tina Turner, included on her groundbreaking "Private Dancer" album. When I last saw Al Green several years ago at the Northsea Jazz Festival in Rotterdam, I saw a satisfying, secure, still faultless soul singer and preacher who seemed to have the time of his life. And he easily transmitted that feeling to the audience.