Becca Stevens debuting Perfect Animal live in Berlin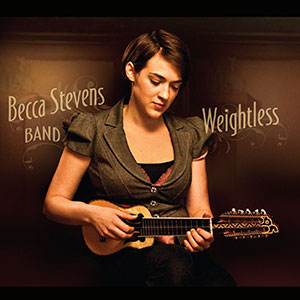 If the dog's nose is cold, then it's feeling fine. Those were one of the sentences Becca Stevens told her audience in German last night at the A-Trane. Once again, after a couple of years, she was back with her band and this time around with several new songs on board.
Her new album "Perfect Animal" is already out in Japan, will be released in the US in early November to be followed by a European release in early 2015.  And she continues her raw, dynamic signature sound on tracks like "Reminder" or "Imperfect Animals" which run smoothly side by side with her songs from her gorgeous "Weightless" album from 2011. She had a few cover songs on offer as well. Right before the end of the first set, she had the receptive audience singing the Smiths' "There Is A Light That Never Goes Out" while the band was walking off stage. A nice treat!
Complementing her on stage, as they have since as far back as 2005, were Liam Robinson on piano and accordion and vocals, Chris Tordini on bass and vocals (and the harmony vocals of the three of them are something else!), and Jordan Perlson on drums. Going back to the afore-mentioned cover songs, we were treated to some Usher, Steve Winwood, and Frank Ocean as well. But Becca really shines when telling her own stories with either guitar or ukulele at hand. She really has created her own, instantly identifiable sound over the last few years and the good thing is that you still can't categorize her. But who wants to really? It's Becca Stevens.