Brian Blade & The Fellowship Band – Body And Shadow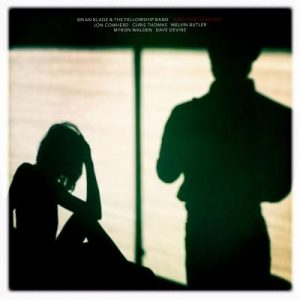 Drummer Brian Blade's band celebrated its 20th anniversary last year and released their fifth album, "Body And Shadow", towards the end of 2017 amid the rush of dozens of new recordings slated before the holiday season. So it was one of those albums which was somehow overlooked. But I'm glad I checked it out finally – you might as well regard it as one long (31-minute) song, consisting of three versions of the title track, two short variations on a Gospel-inflected hymn, and three more tunes.
The relatively short, 9-track album starts off pretty dark, but still soothing and anthemic with "Within Everything" and the "Noon" version of the title track with its guitar-heavy, brooding and atmospheric notion. Both tenor saxophonist Melvin Butler and alto saxophonist Myron Walden grace the epic "Traveling Mercies", a tender, harmonically beautiful piece with a schlepping drum moving things forward. I really like the sound of the harmonium, played by pianist Jon Cowherd as a solo on the traditional "Have Thine Own Way Lord" which segues into a full band version, but still is way too short I think.
Dave Devine's guitar is up front again for the short, exotic version of the "Morning" part of the title track, before the first really more energetic and livelier tune. the ebullient and dexterous "Duality", ensures some variety and features brilliant solos from both Cowherd (who also composed the piece) and Walden before it fades out with a sweet and lovely piano chord. My favorite version of the three variations on the title track is the "Night" part with its very poetic, charming, thought-provoking and more or less mellifluous stance. Cowherd not only plays piano and the harmonium on the album, but also adds the mellotron to the proceedings. Together with the use of bass clarinet by Myron, the whole album has a pretty unique and intense sound.
Rounding off this vey dense and intimate effort is another Jon Cowherd composition. "Broken Leg Days" is a very forthcoming, active tune with variegated sections and surprising inflections that, even though it probably wasn't intended to when it was written, makes a lot of fun with a lively tenor sax and solid bass courtesy of Chris Thomas. The Fellowship Band plays the Duke Performances in Durham, North Carolina on January 20th and Brian can also be heard in the Circuit Rider Trio with Ron Carter and Bill Frisell at Space in Evanston, Illinois, on February 26th.
Follow:
Share: