Chris Dave And The Drumhedz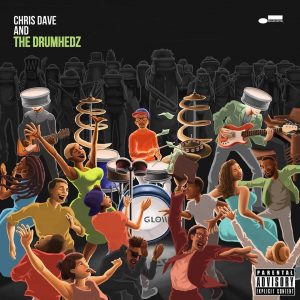 The long-awaited Blue Note debut by drummer, composer, vocalist, and producer Chris Dave sounds like a planetary invasion. In the liner notes, he thanks a bunch of people with the introductory line: "this mission from earth to the abyss wouldn't be complete without giving appreciation". And so, the album begins with a sort of Parliament/Funkadelic meets Erykah Badu on "Universal Language" with guest rapper KRNDN and singer Sy Smith plus spacy choir vocals – all held together by the upfront and in-your-face drumming of Mister Dave. Funk and jazz are the main ingedients on another pretty spaced-out cut; "Dat Feelin'" features Keyon Harrold on trumpet, Marcus Strickland on sax and bass clarinet, and James Poyser on keys. R&B and hip-hop singer and rapper Anderson .Paak fronts the very Prince-like jam "Black Hole" which has a very shuffling rhythm thanks to the phat bass of Pino Palladino and very funky guitars by Isaiah Sharkey, Stokley Williams, and Melvin Watson.
Chris, who has played on milestone albums by Maxwell, D'Angelo, Mint Condition, Adele, Me'Shell Ndegeocello, Eric Roberson, Robert Glasper, and so many more, is very audible throughout, but never so much as you would think that this is a drummer's record. Which is a good thing of course. His trademark playing with syncopated beats is maybe best exemplified on the slow ballad "Spread Her Wings" which features singers Bilal and Tweet on another Prince-sounding slowjam which turns out to become a very schlepping affair towards the end. The very cool, extremely funky sort-of-interlude "Whatever" is much too short at just slightly over two minutes – I wish it would continue for much longer. Vocalist Kendra Foster leads another cosmic piece. Her alienated vocals on the rock-meets-space funk "Sensitive Granite" has some hilariously disturbing parts – the piece returns to familiar turf in just about the right moment.
The space theme continues on "Cosmic Intercourse" featuring Stokley Williams – the more r&b-oriented beats here contrast very nicely with Casey Benjamin's vocoder vocals and the fiery drums. Grégoire Maret is a guest on the spooky, haunting "Atlanta, Texas" which features Goapele and Shafiq Husayn on vocals. A brooding, adventurous sound triptych with the defining elements of vocals, harmonica, and drums. More rap is included on "Destiny N Stereo" by Elzhi and Phonte Coleman (who is also one half of the brilliant The Foreign Excchange). Eric Roberson adds his sinewy soulful vocals to the proceedings here (they both collaborated on an album in 2016). Some of the pieces on this album actually remind me of the final David Bowie album, like the rock-induced "Clear View". My favorite is the old-school soul piece "Job Well Done" featuring the angel-like vocals of Anna Wise – a welcome change of pace and direction. Some exoticism is added by the use of a sitar, played by one of the co-composers, Michael Feingold. Why Chris Dave rates among the 100 greatest drummers of all time, according to Rolling Stone Magazine, is additionally highlighted on the final "Trippy Tipsy" where Chris plays over, under, behind, below, and ahead of the beat. All at the same time or so it seems.