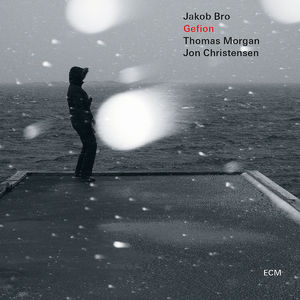 Gefion, the 10:33 minute title track of the new ECM album by Danish guitarist Jakob Bro, slowly builds into a monumental, but silent and sometimes sinister piece, with transcendental qualities to it. The track is named after a goddess who is associated with prophecy.
The track "Copenhagen", Bro's native city, also comes along as a slowly moving drifter, Bro's playing always very light and clear and with a lot of air. Opening up a lot of space here. Tempo is up a bit for the equally moving "And They All Came Marching Out Of The Woods" where American bassist Thomas Morgan is abiding and accompanying the piece with his fleeting fingers, always in context and always supporting and enhancing the composition.
With "White", Jakob Bro falls back into those very moody, spacious tracks with relatively few notes, but what is played here has an enormous effect because the music of this trio is so stripped down that you can't help but imagine your own little images and pictures in your head. Drummer Jon Christensen from Norway, who has played on a lot of ECM recordings by Keith Jarrett, Charles Lloyd, or Enrico Rava, has a very supple approach and teases the others musically at times. It is in fact hard to believe that the group played for the first time at the Copenhagen Jazz Festival in 2012. Their rapport is amazing.
Jakob Bro studied at the prestigious Berklee School of Music in Boston, and also in Copenhagen and New York. He has played with Paul Motian and is part of Tomasz Stanko's Quintet. He has received five Danish Music Awards among numerous others and has been accepted into Jazz Denmark's Hall of Fame. The 36-year old composes very lucid themes ("Lyskaster", "Airport Poem") and also tends to get melancholic and contemplative ("Oktober"), always playing colorful motifs and melodies. This is a very quiet, intense, and ruminative record. And highly recommended.
Too bad I missed the record release concert last month here in Berlin but there will be other opportunities to catch him live:
4/18 Buddha Jazz Club, Hillerod
4/25 ECM label night, Bremen
9/16 Unterfahrt, Munich
9/18 Bijloke, Gent
9/19 The Singer, Rijkevorsel
9/23 Jazz6000, Kolding
9/30 Fasching, Stockholm
10/01 Giant Step, Svendborg.
Jakob Bro is also touring with Lee Konitz, Bill Frisell, and Thomas Morgan with the Balladeering project.