Lakecia Benjamin – Rise Up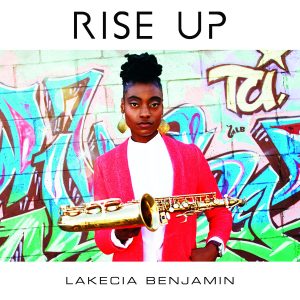 Thank you Lakecia. "Rise Up" is just what we need now. Full of funky grooves, imaginative, evocative and cool sax lines, fantastic vocals which all come with a message. We can't get enough of the ultra sexy "Flashback" at the moment and its amazingly catchy hook. What you also get on the album are all these tiny little extras which make this a pretty round and grounded affair – there is this short organ passage towards the end of "Flashback" which is like the icing on the cake. "On The One" is full of 80s keys and synths and reminds me of the funkiest Prince cuts from way back, combined with James Brown.
There is a long list of different vocalists on the album which make it all the more exciting. Jaime Woods, China Moses, Akie Bermiss, Chandler, and Nicole Phifer contribute to the album which starts with "March On" echoing the current political climate not only in the US, but in so many other countries too. "The best things in history have come from people being upset" is her credo which she transfers here. Lakecia has played with Stevie Wonder, Alicia Keys, Macy Gray, and so many others and so, not only brings a lot of funk to the table, but the soul and jazz also don't fall short. When she steps down a bit or two, like on the dreamy "Stay", you can hear a lot of that pop sensibility combined with 80s-influenced keys again and a grand production.
But it's in the uptempo, optimistic cuts such as "Juicy" (handclaps hooray!) where she really grabs me. I wish it would run longer than only three minutes. "Change The World", the Eric Clapton/Babyface tune which was also recently recorded by Take 6 to be released on their upcoming album "Iconic", certainly fits the purpose here, but I'm still not warming up to the song. Remember the group Madhouse, the fusion band which was created by Prince and recorded two albums in 1986 and 1987 and which simply numbered their tracks (16 in total on the two albums)? Eric Leeds was the saxophonist in that group (and also in Prince's Revolution) who also recorded a few solo albums, "Times Squared" from 1991 still resonating here. At times, Lakecia's album sounds like Madhouse revisited.
Not on the slower cuts though. "Lonely" comes across as pretty hypnotic and soothing, almost transcendental. After the spoken word "Rise Up" title track in the middle of the album, the intensity is at top level with the preaching "Little Children" and the rock-infused, fiery "Takeback". The mysterious and majestic "Survivor" adds to the formidable versatility. Her playing is astute and on-the-fly throughout. The Gospel intro to "Cornbread" is amazing. A perfect fusion of funk and jazz and yet another proof that Ropeadope Records is one of the most important in-the-moment labels. Now back to "Flashback" (I'm hearing some One Way feat. Al Hudson on this one meeting Erykah Badu. Way cool!)