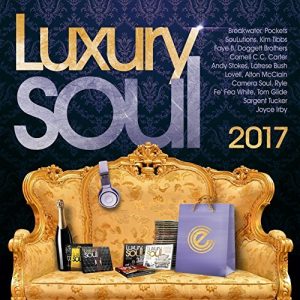 The start of a new year isn't complete without the annual 3-CD box "Luxury Soul", once again compiled by Ralph Tee and opening with a super-sexy, light house/soul club tune, "Don't Judge A Book By It's Cover" by SouLutions, produced by Steve Lee and Louise Mehan. A superb, ultra soulful opening cut. The 12 tracks from CD 1 are all from last year. Of the 11 cuts on CD 2 are 9 from last year and one each from 2015 and 1998 and CD 3 features 12 tracks, 7 of which from last year and the rest recorded between 1981 and 1989.
But back to the first CD and more quality indie soul with singer Kim Tibbs and her high-pitched voice on "I Need Your For Love!", a midtempo two-stepper with effective brass work thrown in. Breakwater, hot on the heels of the reissue of their LPs from 1978 and 1980, are back on the map with a track written by original member James Jones: "Gift Of Love" reminds me a bit of "Sweet Thing" by Rufus with Chaka Khan. A welcome return for the group. There is more house-induced stuff by Hannah White, a string-heavy Joey Nelson mix of "That's Love", a lush production with some Latin background, George Benson-like guitar solo and voluptuous vocals but it loses its momentum towards the end and a return of Frank Ryle, who, together with Rob Hardt, is better known as Cool Million. Their "Two Way Love Affair" by Ryle feat. Flemming Fanoe simply oozes indie soul, style and class, cool vocals and a pretty catchy hook – just what we have come to expect from the guys. Faye B's "Moving On" is a fair enough soul groover with sweet vocals.
I really like the sophisticated soul of the Doggett Brothers on "You Make Me Feel" which gets the T-Groove Remix here and grows through its repetitive chorus. Fine stuff! A lot of formerly unkown artists here, like Cornell C.C. Carter who comes up with a Marvin Gaye-like swaying groove cut; swampy and elegant, "Where Do We Go" trots along brilliantly, hypnotically with a big "more-of-that" factor. I'm not too crazy about the vocals and the production on "Let's Have A Good Time" by Andy Stokes, but the Latrese Bush add "Love I Can Sing About" brings us back to top quality soul crooning. The first CD concludes with "Groove With You" by Lovell (Lovell Brooks), stepping along smoothly with vocals veering more towards the r&b contemporary style, and a new track by Da Lata: "Asking Eyes" is included with the West Ten mix by Phil Asher and continues their typically Latin/House/Soul branding which is too poppy in this case I think.
The second CD features a track from the 1998 Kashif album on Expansion and a 2015 Tracy Hamlin remix of a Merry Clayton tune on the same label. Opening up the second round is another great from the past: Alton McClain, produced by the Cool Million guys and Sheree Brown is back with "Your Love Is All I Need", miraculously sounding like the best that soul music had to offer back in the glorious post-disco years of 1980 to 1982. More Cool Million stuff and more 80s-style soul comes with Kiki Kyte and "Disco Chick" with a few nods to the golden disco era and more than a few nods to the music of Chic. Roy Ayers' infamous "Running Away" gets the 2016 treatment by Simpson Uniquity feat. Diplomats Of Soul, a stylish instrumental (almost) remake exuberantly produced by Paul Simpson. Works good with the keys. And the vibes of course. We get some "Back Together Again"-like vocals on "It's A Beautiful Day" by Fe'Fea White feat. Jimi Morris. And another group from the 70s is back: Pockets, who have released three brilliant album albums between 1977 and 1979, are back with a new single, "Sing A Message", and new shows in the UK back in January. ("So Delicious" from 1979 has just recently been released on CD for the first time outside of Japan.) Three of the original members wrote the song and they sound pretty good on this one. Welcome back!
Cool and warm at the same time are the Rhodes sounds opening up "All I Need Is You" by Tom Glide feat. Funmilayo Ngozi and her exquisite vocals in Erykah Badu mode. A fancy little ditty. Drizabone (remember "Real Love" from the summer of 1991? I do – it was my favorite cut during my move to Berlin) are back with "I Need Your Love" by Sargent Tucker with a Drizabone remix and production and a fancy soul cut. More stuff included here by (Stuart) Mather and a decent cover of the 1979 Ronn Matlock tune "I Can't Forget About You" and "Nothing But Love" by HD feat. Laura Jackson doesn't really resonate with its discofied approach.
On to the third CD which opens with "I Found Love" by Mather (again) & Kingdon and another cover: Barry White's "I Found Love". Nicely done but I prefer the original from 1979. "Now" by Camera Soul sounds like a cheap Shakatak clone whis is also ripping off Earth, Wind & Fire's "Fantasy". Joyce Irby (of Klymaxx fame) returns with "Take U Back", a thickly executed soul/r&b number with Michael Jackson and Justin Timberlake appeal. Joyce sounds great. The Ed The Red piece "Wish You Mine" sounds too trivial to my ears. Four songs here are included from the 80s indie label Omni Records by Keith Patrick (1988), Jean Carne (1988), Brandi Wells (1985), and Rose Royce (1989), all of their albums recently re-issued on CD for the first time. Keith's song "All My Love" and his resemblance to Howard Hewett are striking. And there is a real discovery as well: I wasn't aware of Ethel Beatty and her Roy Ayers/Dee Dee Bridgewater-penned "It's Your Love", released on Roy's own Uno Melodic Records in 1981. A typical Ayers production. "Makeusmile" by singer Kenya (from her recently released remix album) feat. Brandon McKenzie is included here as well. As is "Heading Home" from the new album by trumpet player Kenny Wellington who founded Light Of The World and Beggar & Co and continues to be a vital force in the UK soul/jazz scene. Ashley Scott's "Words" is the only real ballad here and strangely sounds out of place.
Follow:
Share: