Peggy Lee Tribute at Lincoln Center's American Songbook Series
James Gavin, author of the praised "Is That All There Is? The Strange Life Of Peggy Lee" biography, hosted a highly entertaining evening on Thursday night during Lincoln Center's American Songbook Series (they had Vanessa Williams opening this year's season the night before, see review on these pages). Highly entertaining regarding to James' lively and witty storytelling and his quotes from the book (and of course helped by the fact that Peggy's life was full of drama, trauma, and catastrophes), but also in respect of the artists involved on stage.
Each one of the five singers represented a special phase or treat of Peggy Lee's career. Phenomenal singer Rebecca Parris was responsible for a dirty and bluesy "Black Coffee", for example. Her rich and thick voice and her impeccable phrasing came closest to what you would describe as a true jazz singing act. Spencer Day played the cool and swinging crooner with magnificent versions of "Fever" or "Why Don't You Do Right". The wonderful Nellie McKay had the most striking resemblance to Peggy Lee's artistry. Her "He Needs Me" was all Peggy's yearning and forlorn style. And even her phrasing had a striking resemblance.
Jane Monheit was in exceptionally good form, belting out the opener "I Love Being Here With You" or "I'm A Woman". Her extremely emotional, heart-breaking version of "The Folks Who Live On The Hill" was one of the highlights and showstoppers of the programme. Jane got so intensely involved with the lyrics that she had to swipe away her tears. And I was close, too. And what a great band with two of the artists having actually played with Peggy Lee: pianist Mike Renzi was Peggy's musical director from 1983 until around 1995 and bassist Jay Leonhart (sitting in for the ailing Bob Cranshaw) were more than able to assist and drummer Craig Holiday Haynes (son of Roy Haynes) also supported big style with pointed out nuances.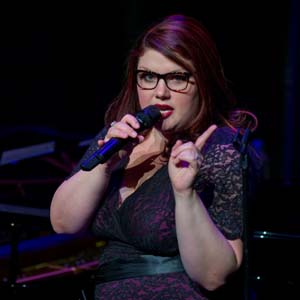 In more theatrical manner, singer Barb Jungr was assigned to sing a couple of signature Lee songs, like "Is That All There Is?" or "Don't Smoke In Bed". But to my ears, hers was the only part that didn't really grab my attention. It felt as though her stage theatrics had to be compensated for her quirky vocals. Holding it all together were the amusing and informative quotes and remarks by James Gavin in this well-paced, thought-through and only-in-New York show. All five singers got together for the rousing finale "Them There Eyes". An evening to remember!