Theo Bleckmann – Elegy On Tour
German-born vocalist Theo Bleckmann, in New York since 1989, has recorded his first ECM album (released in January) which isn't your regular vocal jazz album, but more like a sound experiment where the overall mood and sonic palette is one of intense beauty and calmness that is so fitting with what we've come to expect from the legendary Munich-based label.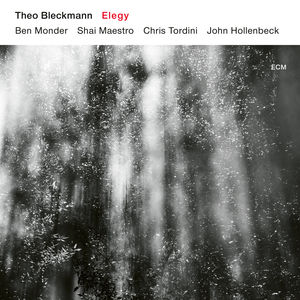 The songs on the album, as Theo himself describes, "…relate to death or transcendence in some existential way…For this album, I wanted to create songs that deal with this subject matter not in a morbid way but with some light to it." And the recent passing of his mother has probably helped him a lot achieving this since she was "funny and always looking for things to make her laugh." Not a bad entry for a project dealing with death. And the project begins with a short instrumental piece on piano, played by Shai Maestro.
Shai continues opening Stephen Sondheim's "Comedy Tonight" (again not what you expect on an album with a topic like this) which Theo re-arranges and actually totally deconstructs to some very dark and sinister-sounding piece with a very elegiac piano, but then with the contrasting lyrics ("Bring on the lovers, liars and clowns!") makes it a completely new statement which suits the song very well. Theo continues with his own "Fields" (he wrote all of the music except for the Sondheim), another piece which is mainly creating an atmosphere of dichotomy with Theo's wordless vocal floating along and the guitar of brilliant player Ben Monder putting extra dramatic accents into it.
The poetry continues with "The Mission"; at almost eight minutes it's the longest piece on the album and again features wordless vocals in contrast to Ben's guitar, in unison with Shai's piano, and in rhythm with drummer John Hollenbeck. They soon make way for a voice and piano duo sound before Chris Tordini's bass sets in and brings the tune back to the center again. It's probably the track where Theo grapples the most with the topic of the album. Another short piece, "Littlefields", divergent in its approach, galvanizing, makes way for the title track. The experimental, atmospheric sound throughout this pretty somber piece is probably the most gloomy and dismal track on the record.
Utter beauty returns on an original zen poem by Chiao Jan which Theo has set to music. "East Mountain's white clouds say keep on moving, even if it's evening, even it's fall" continues the theme of finding light, rejoice, and joy in the face of termination. The accompanying music, never really using one instrument to step out front to solo (which is one of the main feats here I think), is ethereal all the way. Guitar, bass, and drums are at the core of the short "Cortège" and Shai returns for the even shorter "Elegy, var.", a reprise of the title track where the motif is repeated for a little encore. And Theo says about "Take My Life" that he wanted to "imagine what it would be like to die". And he imagines the process as something very profound and maybe also pugnacious, reflected here by Ben's strong and fierce guitar work and the equally slightly aggressive piano. Theo underscores it with his final words "Let me exhale once more and I'll be mute forever/May there be no heaven's gate/No other God than silence".
The album finishes with another wordless piece and my favorite here, the beautifully floating and meandering "Wither" with its Keith Jarrett-like piano improvs where Theo displays some kind of hope amid this grave topic, and with "Alate", a short finale to an immensely intimate and intense mood.
Theo Bleckmann is on tour in Europe with the guys on the album so don't miss.
03/03 Dortmund – Domicil
03/04 Paris – Duc des Lombards
03/05 Kiev – The Closer
03/07 Berlin – A-Trane
03/09 Oslo – Victoria Nasjonal Jazzscene
03/10 Vienna – Porgy & Bess
03/12 Milan – Blue Note
03/13 Basel – Jazz Campus
03/16 Barcelona – Jamboree
03/17 Amsterdam – Bimhuis
03/18 Rotterdam – Lantaren Venster
03/19 Oostende – Vrijstaat
03/20 Cologne – Stadtgarten
03/21 Munich – Unterfahrt