Update: Kimberly, Luis, Brenda Nicole,…
Lots of new music to make the new lockdown a bit more bearable. Since I have to close my business as early as Monday until November 30th (hopefully not longer), there is more time to listen to new music. One of Stevie Wonder's background vocalists of late, Kimberly Brewer, who gave us the wonderful original "Everyday Feels Like Christmas" in 2018, is back with "Just That Sweet To Me", a beautiful cover of the Greg Curtis tune. It is one of those timeless Shirley Jones/Jean Carne-like midtempo swayers you can not resist. Kimberly sounds like an angel. The tune has a wonderful background vocal arrangement and some neat sax work by Walter Beasley. A soothing cut.
On the deep house tip, check out the latest from Luis Machuca, the Chile-born, Toronto-based DJ whose latest single, "Sounds Right" (out November 13th on Friskybeat Productions), has all the perfect ingredients for a classic house anthem: thick and soulful chords, handclaps galore, a bassline to melt, and some jazzy sax work by Dave Say, making this the ultimate warm house groover just perfect for the upcoming dark November weeks.
There's also a beautiful neo-soul comp out by London radio and club DJ Ronnie Herel. The album "Neo Soul Sessions Volume 1" opens with an irresistible bassline and vocals by Omar and Leon Ware on "Gave My Heart". Elsewhere on the record, check out the hip-hop/soul feel of two DJ Jazzy Jeff cuts which feature Raheem DeVaughn, two cuts by Manchester-based soul project Children Of Zeus, with one track ("Push On") inspired by the Mary Jane Girls classic "All Night Long". The Foreign Exchange have two tracks on offer: the Dutch producer Nicolay and US singer Phonte Coleman add more spice and housey soul with "Shelter" and the equally mesmerizing "Come Around". Rotterdam-based producer Moods teams with the vulnerable vocals of Damon Trueitt on "Slow Down", one of the sleeper killer cuts on the album. To round things off, Darien Dean and Avery Sunshine are featured with their soul/pop gem "Someone Is You". The album closes with the wonderful "Need Somebody", a track from the totally and undeservedly overlooked KOF and his album "An Alternative Soul" from 2013 with added vocals by the great Terri Walker. An ethereal finale to a great new compilation.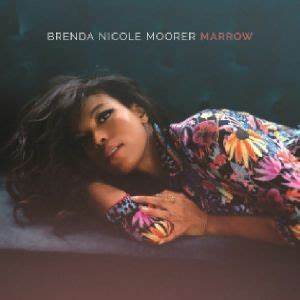 Brenda Nicole Moorer and her Minnie Riperton-style vocals grace the 28-minute "Marrow", an alternative jazz/soul project on Atlanta Records which boasts with very unique compositions which you think come from the classic jazz canon, but are actually originals, like the swirling "Catch Me Falling". The album was produced by Troy Miller (Gregory Porter, Laura Mvula, Jacob Collier, Jamie Cullum) to complement Brenda's pitch-perfect vocals and her sublime voice. I'm very much into the folk-induced "Return To Sender" which is like a crossover of indie singer/songwriter and soul, a startling match. And she actually reminds me a bit of Joni Mitchell on the final "Flying Lessons". She also does a Minnie Riperton cover. Of "Take A Little Trip", written by Stevie Wonder, she says: "Minnie Riperton is one of my favorite artists of all time. The album that Stevie Wonder produced for her is in my top 10 favorite records ever. I decided to cover 'Take a Little Trip' at the start of writing my new record Marrow, which is an album about self-discovery and realizing we have power and light inside of us…Most of the world is quarantined and not able to physically take a trip. But, this time and space is so needed for the world to take a little trip through our minds and explore it. Take a moment and breathe, look within, reassess, discover something new and grow." Perfect timing indeed.