A Monday Night in Kreuzberg: Kwabs In Berlin
It was during "Cheating On Me", one of the slower numbers from singer Kwabs and his debut LP "Love + War" (see review on these pages), that the full capacity of the London-based singer shone through. Dressed in black, with a black cap, a lot of his singing abilities were unfortunately buried in a wall of unidentifiable noise.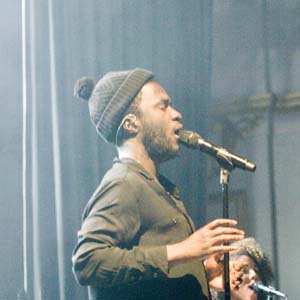 But nevertheless he was able to communicate his mostly self-written songs to the audience and his quirky, but sympathetic mix of soul with the sounds of 80s UK synthpop, quickly made a mark. Some of his songs have this special quality of becoming little pop hymns, like the catchy "Walk" or the r&b anthem "My Own" which had his two background vocalists supporting him valiantly.
The six-piece band, including two keyboardists, was as tight as you can get in these surroundings. Not all of the brilliant synth and keys part from the album came across as enjoyable as on the original. But the mix of Kwabs' soulful voice and the neat melodies, like in "Look Over Your Shoulder", was clearly a big, winning factor. And the repetitive backing of "Forgiven", a wonderfully executed ballad with overwhelming grandiloquence, was simply cute. As was the retro dancer "Make You Mine".
When he sang "Lately I, I've Been Rolling With The Tide", the opening phrase of his superb old-school soul ballad "Cheating On Me", it was like a revelation. That here's a singer with immense potential. Kwabs plays Hamburg tonight and Munich on the 27th.