Anke Helfrich Trio feat. Tim Hagans – Dedication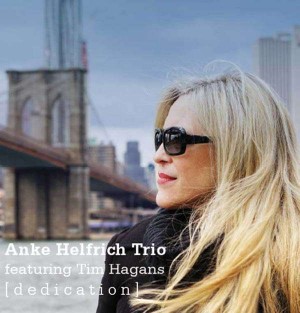 German-born pianist Anke Helfrich comes up with a new album that features Tim Hagans on trumpet and flugelhorn. Anke has studied with Kenny Barron and Larry Goldings and has played with Roy Hargrove, Johnny Griffin, and Manu Katché, among many others.
On the new record, she not only plays piano, but also uses Fender Rhodes, like on the Herbie Hancock tune "Chan's Song", which was featured in the Bertrand Tavernier movie "'Round Midnight". Here, she starts out playing the beautiful melody on piano before Tim chimes in, Freddie Hubbard-like, with elegance and grace before Anke changes to the Rhodes with a soulful solo and bassist Martin Wind follows. It actually flows like Dianne Reeves' version from her 1987 Blue Note LP.
But the album starts out funky and organic with "Invictus", based on the poem of the same name by William Ernest Henley which was also cherished by Nelson Mandela while he was in prison. Anke herself spent her childhood in Namibia and dedicates the song to Mandela by adding the voice of Ardie Walser to the mix who recites the poem to the powerful, highly energized performance of Anke's keys and fully charged drums of Jonas Burgwinkel. A promising start.
A lot of changes and unpredictable patterns occur on the fiery "Rise & Shine" with ebullient passages from both Tim and the leader, some mighty swinging halfway through before the piece breaks out again and finishes with a potent drum part. But there is also a sweet and sensitive side to Anke's playing, best exemplified on the beautiful opening part of "Sagrada Familia" where she plays some haunting melodic piano reminiscent of a flowery Billy Strayhorn composition. Thelonious Monk's "Think Of One" also gets the cute piano-turns-Rhodes treatment. The interplay between her and Jonas is pretty exciting and her return from the Rhodes to piano for the final bars well-chosen.
She captures the Italian way of life on "Aspettami" which actually sounds as if it's part of a soundtrack to an Italian movie. Here, she switches to harmonium for a folksy, almost pastoral flavor and has Martin play a trance-like solo. She accompanies and picks up on Martin Luther King's "I Have A Dream" speech on "The Prize" with extended variations, some of them hinting at bluesy chords, some with free-form bursts with Tim's voluminous help. And underlines his speech while concluding that there was actually a lot of tension and relief, melody and structure in King's preaching. The album closes with a nice piano solo cut, "A Simple Act Of Kindness".
Anke currently plays the piano festival in Lucerne with solo performances until the 29th and her trio with Tim Hagans will be on the road in February with stops in Frankfurt (11th), Ettlingen (12th), Bad Salzhausen (13th), Leverkusen (14th), and Passau (15th) with more dates to be added.