From Bergen To Berlin: Stein & Mari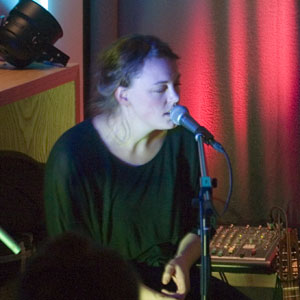 Just shortly after the release of their new album "For Individuals Facing The Terror Of Cosmic Loneliness", Stein Urheim and Mari Kvien Brunvoll played a cute "living room" concert at Lieschen Müller in Prenzlauer Berg. The café is not only known for its delicious tartes and cakes, but also for its weekly live music.
And both Stein and Mari showcased several of the songs from their new album as well as other tunes thrown in. The strange mix of Americana, folk, jazz, pop, country, blues, and singer/songwriter material worked great in concert as well, with Mari using layers of her vocals as background and for setting the atmosphere which, I couldn't help but think about it, can probably only derive from the far north of Norway. Or maybe not. Songs like "Garden Sound" or "Lazy Philosopher" have this almost weird eeriness to them. Lots of space and openness and dreamy landscapes are created by them.
Mari used only her voice and some devices for effects and Stein on his various guitars helped out creating a deliciously somber mood throughout the set. Vocally, both blend together perfectly. See also my review of the album on these pages. Stein Urheim and Mari Kvien Brunvoll appear in Hamburg on Friday and will have their official release concert in their hometown Bergen on October 29th at the Bergen International Music Festival.
Follow:
Share: