More APAP Madness With Polly, Kathy, and Peter
So APAP madness continued on Sunday with a million artists showcasing for 25-minute sets. Only a few of those I saw stood out: singer and composer Peter Eldridge, one of the founding members of the New York Voices, played music from his recently-released "Disappearing Day" album. Opening his set with the very cool, groove-bending "Mind To Fly", Peter displayed exactly what it takes these days to garner attention and credentials: original songs with a twist instead of another standard, astute arrangements, and flying accompanists, in this case Stephan Crump on bass and Ben Wittman on drums. He did sing a standard, or sort-of-standard, but "Witchcraft" came in an unexpectedly fast tempo with Peter only putting little piano nuances into the mix and Ben and Stephan playing their behinds off.
The album by the way features Anat Cohen, Alan Hampton, fellow NYV singer Lauren Kinhan, Janis Siegel, and Becca Stevens, among many others. And there are compositions by other artists, like Leonard Bernstein, Paul McCartney, or Luciana Souza. Needless to say, Peter's voice and style is totally unique and captivating.
Polly Gibbons is a UK-based vocalist who was nominated for a BBC Jazz Award in 2006 and has released the critically-acclaimed "Many Faces Of Love" album in 2015. She also opened for Gladys Knight last summer during Frau Knight's July tour and will release her next album in the spring. Her warm, bluesy voice and striking vibrato which luckily is never too over the top, exude warmth and depth and an almost eerie sound in the lower register. It's just in the higher keys where I think she started to belt it out too much. But she is certainly one to watch out for in the new year. Let's just hope that the new album will not only feature the tried and tested standards. Polly had superb support on stage with James Pearson, Paul Bollenback, Mark McLean, and James Genus.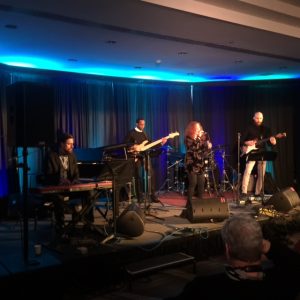 Detroit singer Kathy Kosins made a big difference with her soul-drenched jazz songs from her upcoming "Uncovered Soul" album which seems to be the perfect blending of those two genres and a pretty hip thing to do at this time. Produced by Kamau Kenyatta (Gregory Porter), the album features rarely heard songs by Curtis Mayfield or Gene McDaniels plus a couple of original tunes which she co-wrote with Jeff Franzel. The steady swampy groove of "Voodoo", ably backed by her terrific band under the direction of keyboardist Ondrej Pivec, set the tone for a grooving, mucho in-demand fresh approach and diction. "Don't Get Me Started", which ended a much too short set, really has the power of becoming a future standard and has put her on the serious soul map which for her is actually something like a true homecoming.