Celebrating Rio and New York with Copa Village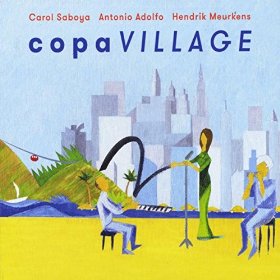 Copacabana and Greenwich Village are supposed to be feted in this 11-song collection of Brazilian music called "Copa Village" by singer Carol Saboya, harmonica player and vibraphonist Hendrik Meurkens, and pianist Antonio Adolfo.
They even manage to come up with an interesting arrangement on the too worn-out "The Girl From Ipanema/Garota de Ipanema" with a bright harmonica solo by Meurkens. Carol puts some wordless vocals to the Adolfo/Meurkens title track which has some choro modulations and syncopated rhythm. Carol, who is actually Antonio's daughter, delivers some breezy vocals on "Show De Bola" where Meurkens has the only vibes solo on this album. The track is an enjoyable percussive romp with lyrics by the great Paulo Sergio Valle.
Antonio Adolfo was featured on the landmark Elis Regina/Toots Thielemans recording "Elis & Toots" from 1969 and there are hints of this get-together in the Antonio Carlos Jobim composition "O Boto" where both Carol and Hendrik are shining examples of the beauty of this music, in this case the baiao.
I checked back into the Meurkens discography and fell in love again with his imaginative and expressive playing on the two Concord releases "Poema Brasileiro" from 1996 and "Slidin'" from 1994. Two masterpieces which feature Mark Soskin, Peter Bernstein, and Romero Lubambo, among others.
"Agua De Beber" has been done a million times but is done here with various rhythm changes and great delivery by all three leaders – I was a bit afraid of it at first but they've succeeded even on this tried and tested tune. "Pois É", the beautiful ballad by Jobim with lyrics by Chico Buarque and originally from Chico's album "No 4" from 1970, builds into a light samba with intriguing harmonica snippets.
"Pretty World", the classic Adolfo song with lyrics by the immortal Alan and Marilyn Bergman, is sung here in English and offers a fair enough version (my favorite is still the Sergio Mendes cut from the 1969 album "Crystal Illusions" with vocals by Lani Hall and an arrangement by Dave Grusin). "Nosso Mundo", another Hendrik Meurkens song, has some extra guitar chords sprinkled into the mix and makes for a nice change in instrumentation. The light and airy vocals of Carol Saboya make this album a very convincing and positive affair.
There is one song which also appeared on the Elis & Toots record from 1969: "Visao" closes the album on a beautiful note. An album just in time for the beginning of spring.