It was back in 1985 when I first heard the music of pianist Erroll Garner on an album called "That's My Kick", recorded in 1966. It was somehow a new sound for him, which I found out later of course, since he had recorded primarily in trio format up until that time and was now using guitar (Art Ryerson and Wally Richardson) and percussion (Johnny Pacheco, José Mangual) too. Among the six Garner compositions (he mostly recorded tunes from the Great American Songbook before this release), the amazing swing of the title track still sounds fantastic today.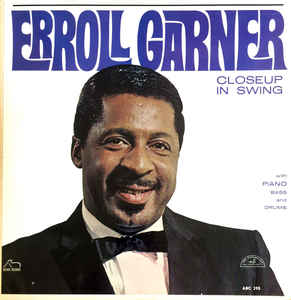 Now, twelve albums by the piano maestro have been remastered, the first six releases just came out. Classic recordings from 1959 to 1964, with two live sets included: the "One World Concert" (1962) which comes with additional introductions and an unreleased version of his own ballad "Other Voices", and the "Campus Concert" (1962) which turned out to be his final live concert and includes a previously unreleased version of his own composition "La Petite Mambo". Is it obvious/audible that those two concerts were recorded before a young, student audience? Not really but it doesn't matter because the joy of playing and Garner's knack for coming up with spicy Latin rhythms is just superb. His long-time trio with Eddie Calhoun on bass and Kelly Martin on drums (his longest running trio) seems to be a match made in heaven.
We also get remastered cuts of the popular "Dreamstreet" album (1959) which was issued a couple of years later on his own Octave Records imprint and includes more of his impeccable swing, adding a restored Garner composition with "By Chance". Two years later, his "Closeup In Swing", also still very much in demand these days, came out and it's also part of this series. Once again, Garner really shines brightest on his own pieces like "El Papa Grande" or "Octave 103", which exclusively has been included here.
"A New Kind Of Love" (1963), his film score recorded with a 35-piece orchestra, among them Barney Kessel on electric guitar, also enhance Garner's ability to write classic stuff. Just listen to "Paris Mist" for example, included here in three versions (Bossa Nova, Waltz and Swing, and Trio), and you probably get the drift why he was so special. Is there any pianist who is or was walking in his footsteps? Not that I'm aware of any. It's not only about his combining swing with wit, but much more than that.
"A Night At The Movies", one of the last sessions with his classic trio, collects 13 of his favorite movie tunes and even though this trio had recorded and played for ages, you never get the impression that there is something like a certain routine among them. With "You And Me", the final cut on this album, we are once again reminded that Erroll Garner was capable of writing little movies himself. This Octave Remastered Series is also a great reminder of Mr. Garner's endless abilities.