Janis Mann & Kenny Werner – Dreams Of Flying
Voice and piano. One of the most intimate situations. Executed to perfection back in 1975 by Irene Kral and Alan Broadbent on "Where Is Love?", still one of my alltime favorite albums. Janis Mann, the Brooklyn-born, California-based singer, has some of Irene's features. Her instrument can be equally warm and cool at the same time, a rich alto, almost and mostly vibratoless (which I admire), and a range which she sometimes only hints at, but somehow you know that there is an immense flexibility. Just a listen to "Edith And The Kingpin", the Joni Mitchell classic from her pivotal 1975 LP "The Hissing Of Summer Lawns", draws you into her world, reaching captivating lows with her phrasing of the "mysterious song". She is accompanied here by brilliant pianist Kenny Werner and bassist Drew Gress.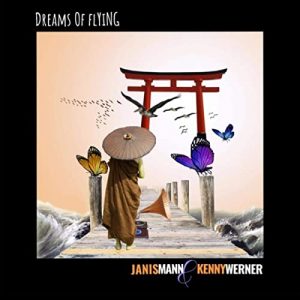 The album came together after a club date at New York's Kitano (we miss you Kitano!), when Janis, Kenny, and Drew recorded with drummer and percussionist Duduka Da Fonseca, adding more live recordings several years later in LA (Capitol Studios) with Kenny and guitarist Larry Koonse. Both sessions make up "Dreams Of Flying", a set which boasts with an exquisite repertoire sans the Great American Songbook. And, to be fair, this is not a voice & piano only album. Kenny and Janis team up on two songs only. One of which, from the epochal Jimmy Webb songbook, "Wichita Lineman", recorded live, echoes the intimate sentiments of two like minds. Disciplined and spiritual in his approach, I've been a fan of Kenny's since I came across his 1994 "Live At Maybeck" solo recording on Concord Records. His joyful playing on Stevie Wonder's "Overjoyed" is just that, but I think the overall interpretation comes across as a bit hurried. I'd rather stick with the ballads. The other Webb tune, "The Moon Is A Harsh Mistress", opens the album on a splendid note.
"Where Do You Start?" is featured with a pitch-perfect, beautiful rendition. The simplicity is overwhelming, Janis telling the story with amazing aplomb. There are two Paul Simon compositions: "I Do It For Your Love" and "American Tune", both showing her tender, almost faint vibrato, both recorded with the trio. And on both tracks, she shines so bright with a timbre which is simply awe-inspiring. "When October Goes", the Barry Manilow/Johnny Mercer tune which Rosemary Clooney recorded in an amazing version on her 1987 Concord LP, is so full of warm and rich colors, with Kenny's flourishing accompaniment which at times veers toward an eerie darkness with his avantgarde-ish approach. It is almost too much, but in a positive sense. "I should be over it now", she sings vulnerably, with just the right amount of hope and confidence.
Of the four live numbers on the album (three of which with Kenny and Larry on guitar), Blossom Dearie's "Inside A Silent Tear" seems to match perfectly into the mix and the sequence. And it is also a welcome change of pace and sound with the guitar thrown into the proceedings. Reaching the highs on Stephen Sondheim's "I Remember" and embracing the story fearlessly, I guess her rendition is as equally exciting and engaging as the Dianne Reeves recording of the tune on her 1991 Blue Note album.
Leaving us with Sandy Denny's "Who Knows Where The Time Goes" in another exceptionally wonderful interpretation, echoing the folksy original, exuding so much warmth and allure, this dream of flying comes into reality in the most bittersweet configuration.