Towards the end of "Never Find A Better Love", the second track on South African singer and guitarist Jonathan Butler's new record "Free", something like the sound of Philadelphia's golden years shines through on the dance-with-strings groover. Complete with Rhodes played by co-writer and producer Luther "Mano" Hanes. I wish there would be more moments like this on Jonathan's new record. But I can't find them.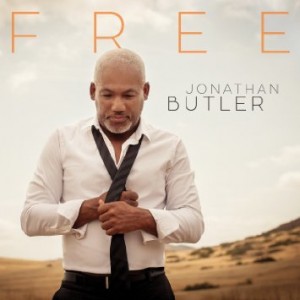 Following his career since his self-titled debut in 1987 (a double-LP) which yielded the top 30 hit "Lies", it has been something like a bumpy road for him. There were a lot of high-class releases mixed with poor, middle-of-the-road collections which didn't click at all. And I think this new one falls into the latter category. A lot of the material here sounds like he has done more or less the same before, like the cheesy "Where Would I Be Without You" which is dripping with kitsch.
And the album doesn't really start out promising, with the repetitive worship cut "You Are The One" where the verse is sung a million times. The gospel album continues with the so-so "Moving On", another track that lives off its repetitious chorus. The real peak of all this trash is the hard-to-bear "I Am That I Am" with its cheap structure. There is no individual touch, except maybe from his easy-on-the ear, sympathetic voice. The title track is totally forgettable. At least, his "He Is God" has some crisp brass and background vocals moments, not unlike some mid-70s Stevie Wonder. But the instrumental middle part sounds so cut off from the rest of the track, it just doesn't gel.
And after hearing the words "Be Encouraged" for the 43rd time on the track of the same name, I'm actually feeling quiet the opposite. But it's getting worse: the thousands of repeats on the soporific "Sing Africa" must be a joke. Well, I'm afraid they aren't. But it comes over like a serious affront to the ears. I can't believe that this is the same Jonathan Butler who just a few years ago gave us the brilliant "Color Green" (from the 2010 album "So Strong" which included a few more way above-average tracks).
The last two songs here don't bring any healing at all: the tedious "Show Me The Way" and the lackluster ballad "New Day" enter one ear and immediately leave the other. But his suit on the cover of the booklet looks great.