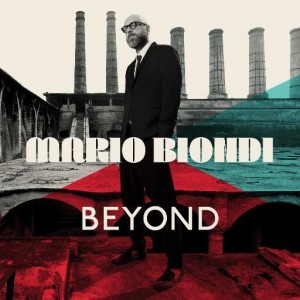 The new album from singer Mario Biondi is a pretty mixed affair. Actually, it really doesn't say anything anymore after the fourth track, except maybe for the Jean-Paul "Bluey" Maunick-penned and -produced "Another Kind Of Love". I have always admired the Barry White-ness in his voice, so natural and without coming over like a cheap clone or something. But of the 13 songs on offer here, only four or five have touched me.
The album starts with the promising and uplifting "Open Up Your Eyes" and continues with the very funky, grooving "All Of My Life", destined to be a future hit on the charts. And "Love Is A Temple" comes closest to the 70s crooners, in style and arrangement, and with a catchy refrain. My personal favorite is the beautiful ballad "All I Want Is You" which Mario co-wrote with Dee Dee Bridgewater. With its haunting piano by Massimo Greco (who produced the majority of the album with Mario and David Florio), it features some cute background vocals and is certainly the highlight on this otherwise pretty mediocre and disappointing set.
After this track, the dilemma begins. Bland and dull compositions like "I Chose You" (did I really hear an auto-tune on this track? What a crying shame!), the unbelievably cheap and obvious copy of "Living For The City" and its inclusion of some featherbrained French female vocal ("Monsieur je vous aime beaucoup") in "You Can't Stop This Love Between Us", or the boring "Blind" are totally below Mario's level.
The amazingly expressionless "Come Down" is absolutely insignificant. Even "Heart Of Stone" with the Dap-Kings sounds like it was some kind of left-over track from one of their own albums. It sounds like a cover band playing on some high school prom. Hope returns with a mid-tempo groover, a track co-written by Jeff Cascaro ("Fly Away") and the afore-mentioned Incognito track but everything is shuttered down again with "Over The World" and its plastic sound stealing a riff from Christopher Cross and the abysmally horrendous reggae-fied "Where Does The Money Go" with its exceptionally trite and superficial lyric.
A total disappointment from a well-respected singer.
Follow:
Share: