Luxury Soul 2020, your reliable source for the best indie soul, has finally arrived and the three-disc collection is once again the best overview of quality modern-day soul that you can get. Lots of familiar names on this one, like Glenn Jones, featured with a 2009 recording by producer and writer Herb Middleton ("Better Man") and on "Speak Love" with James Day, Tony Terry, and Tim Owens. Meli'sa Morgan and her overlooked gem "In The Mood To Take It Slow" on saxophonist and flutist Najee's 2013 album "Morning After" is also here, as is a track from One Way feat. Al Hudson's 2019 opus "#NewOldSchool".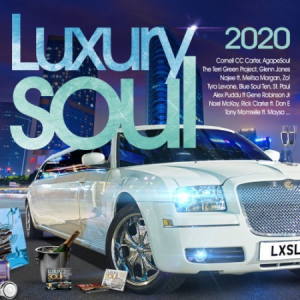 Lasperanza also make a welcome return here with their reworking of Gwen Guthrie's "It Should Have Been You" and Ed Motta is featured with "Your Satisfaction is Mine" from his 2018 disc. And Rockie Robbins is added with "Together" from his 1980-released "You And Me" album. Bluey from Incognito can be found twice: "Jakarta Dreams" features Dira, Tompi, Petra & Rega and with Indonesian singer Tompi again on "Feel This Way", both typical Bluey productions and compositions.
Which leaves us with a lot of top quality material, like Cornell CC Carter's magic "I See Love (Metlife Remix)", bringing back memories of early 80s soul and funk classics. Some Barry White moments are here too with "It's You" by The Terri Green Project and one of the sweetest new discoveries is the voice of Tyra Levone on the blissful two-stepper "Keep Steppin'". One of the highlights of the entire set. Philly sounds turned 2019 appear with "Friends" by Rick Clarke feat. Don E and our beloved Hil St. Soul can be heard on a funky "Take Me Away" by Brian Power feat. Mike Lindup, a catchy indie soul gem. Next up our other highlight of the set, "The Way We Love" by Darryl Anders AgapeSoul, a remix from his 2018 "Conversations" set. And you can't go wrong with either Eric Roberson, Carmen Rodgers, or Zo!, all coming together for the ultra funky soul midtempo "Love Up!" from Zo!'s "FourFront" album. Excellent! More handclap grooves abound on "Who's Been Kissing You" by the nonchalant and hilariously retro-sounding SouLutions. CD 1 ends with the Loose Ends/Nick Martinelli-inspired "Lovestruck" by Frankie Fandango, an eight minute monster jam taking you back to the early to mid 80s.
The second CD abounds with more good stuff. There is the sweet soul of Blue Soul Ten with a heartwarming "Life" and the always guaranteed satisfaction of Tony Momrelle with a track from his "Best Is Yet To Come" album from last year, "We Had Searched For Heaven" featuring Maysa. More Loose Ends (interpolating "Hangin' On A String") and more Don-E (who produces) are on tap with the Back 2 The 80z Remix of "Set It Off" by Richard Alexander Davis which loses the flow along the way though. And it's so nice to hear the great Paul "When Love Comes Calling" Johnson again on the house-inflected "Follow". I really like the Latin touch and the straight-ahead feeling of "Find The Day" by Tony Lindsay who comes across as a new Jon Lucien, but with a higher-pitched voice.
Highlights of the third CD include a mellow, subdued "Slow Down" by the Bill Henry Band, and British soul, jazz funk, and rare groove producer, remixer, and arranger Soulpersona (Morgan Howell) with a wickedly contagious "Music Man" which features singer Princess Freesia (from his 2018 album "Sunset City") and the afore-mentioned Rockie Robbins hymn. Please also check out our review of the last five editions from 2015-2019 by using the search function.