Italian jazz artist, composer, remixer, producer, and DJ Nicola Conte has just released his latest album called "Umoja". The guy who presented Rosalia De Souza back in 2002 with "Garota Moderna" and who also released an album on Blue Note, the still brilliant "Other Directions" in 2004, has come up with a pretty sophisticated, both modal and soulful, collection of songs. We get a lot of 70s independent spiritual jazz here, with singer Zara Mcfarlane's great vocals on the opening track "Arise". Traces of Flora Purim and Return To Forever can be heard on "Life Forces", with saxophonist Timo Lassy sounding a lot like Pharoah Sanders with his twirls and twists.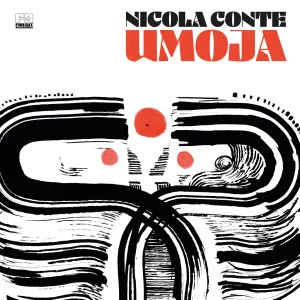 The album was recorded direct to analog tape, with only two takes per track. The warm sound with almost no overdubs or post-production edits should be reason enough to reach out for the vinyl version of this session. Also, the vinyl was cut at 45 rpm for a loud, high-definition sound. The shuffling beat of "Flying Circles", warm Rhodes and Wurlitzer, and the ethereal vocals of Bridgette Amofah grace this joyous little wonder. "Umoja", Swahili for unity, oneness, and harmony, is the common thread throughout the album. As is ex Roy Hargrove bassist Ameen Saleem, who plays on four tracks, including the really hypnotising "Flying Circles". More spiritual soul jazz, kind of a mix between Sanders and Lonnie Liston Smith, appears on "Freedom & Progress", a trumpet-led fusion piece with another brimming sax solo by Timo Lassy playing over the repetitive vocals.
"Soul Of The People" is another funky melange of soulful vocals and tripping jazz. I especially like the time change about halfway through the track which makes way for an anthemic ending. Tempo slows down a bit for the wonderful, eerie, smoothly meandering "Heritage" with flute courtesy of Milena Jancuric. A really soothing piece. Myles Sanko adds his sonorous voice to the enchanting "Into The Light Of Love" which grooves like hell. There is an instrumental version of the song too. The same applies for "Arise". The title track has this wistful and, at the same time, positive aura and melody which turns it into the perfect showdown to this highly recommended set. Out now on Far Out Recordings.