Run N' Fly With A Remarkable Debut
Run N' Fly is a new music collective under the direction of guitarist Sandro Albert. Helping out with the lyrics is Brazilian artist Manu Lafer and for all those out there studying the liner notes and personnel on all of your records, the group consists of session musicians and singers who have appeared on thousands of albums during the last three decades: Derrick Murdock on bass, Omar Hakim on drums, Bashiri Johnson on percussion, and Angela Clemmons, Cindy Mizelle and Darryl Tookes on vocals.
Sandro has worked with Patti Austin, James Ingram, Dionne Warwick, and Brenda Russell and this debut album by his group shows a lot of great R&B, Soul and Jazz tunes, with lyrics dedicated to legendary female icons from the music and movie world.
The album is full of retro grooves reminding me of the soul and r&b heydays of the early 80s – like on the opening track "Daughter Of Cain", a thick and lush soul arrangement meets sexy background vocals and those missed handclaps. It's a winner! Chic meets the Average White Band on "Devon" which features infectious group vocals and another pretty catchy hook. The horn lines on "January", together with the amazing vocal charts, make this mid tempo groover another gem.
"Pam" refers to legendary Blaxploitation actress Pam Grier, so Sandro tries to evoke some Isaac Hayes-style atmosphere here with some dramatic horns. Some of the parts here like the bridge, don't really go with the flow I think. We also get some wonderful Chic-inspired grooves on "Brenda" (the "respect for me" line actually reminds me of Diana Ross' "Upside Down"), a character in Philip Roth's "Goodbye, Columbus". The fact that a lot of the vocal parts are so similar to what Chic did in the late 70s and early 80s, isn't really irritating because they don't try to imitate, but rather transport those typical sounds into the here and now. I think we definitely need more endeavors like this one.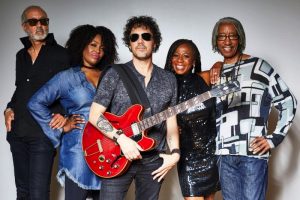 The mood turns blue on "Maeve" with Darryl taking over the lead – a nicely flowing groove with a lot of pop chart potential I think. There are the handclaps again on "Raquel" (dedicated to Frau Welch) which also features a bluesy guitar from Sandro. "Evangeline" stands out here a bit with its synth parts which to me sound a bit cheap and don't enhance the mystical theme of the tune. But things change quickly to thick and soulful grooves again for "Jennifer" where the vocals at times sound like a full choir. In the press release to this album, Sandro mentions Donald Fagen and Walter Becker of Steely Dan and how they featured the top session musicians for their albums as a sort of role model for his own record. Turns out that it works pretty well.
The only real ballad here is "Roberta" which turns into a Broadway-style tune in the chorus and doesn't really catch on. And the final track "Lynda" is too rock-oriented for my taste. I can only repeat that we certainly need more genre-crossing projects like this one! Run N'Fly make their debut tonight at The Iridium in New York.