What Gina Listens To This Xmas Season
Once again this year, a lot of new holiday records were released in the past weeks and even now, a new track or a single or two are coming in digitally. But there are a few new recordings that we've come back to over and over again this year and we wanted to give you a quick rundown.
Kurt Elling – The Most Beautiful Day. The most brilliant new Xmas recording is certainly Kurt Elling's. I didn't even expect him to throw out a Christmas album ever but he has come up with a very stylish, no-nonsense kind of disc, starting out with the Leslie Bricusse-written "Sing A Christmas Carol" from "Scrooge". Kurt added two more songs from the film and elsewhere on the album, luckily chose not the worn-out classics, but rather opted for lesser known and obscure tracks. And he even put his lyrics to an Edvard Grieg lullaby, the result a very beautiful "The Michigan Farm". Kurt also has stellar backing on the album with John McLean on guitar, Stu Mindeman on piano, Clark Sommers on bass, and Kendrick Scott on drums.
Bob Baldwin – The Gift Of Christmas. Keyboardist Bob Baldwin has always been put into the smooth jazz category, undeservedly so I think. Yes, there are some keyboard tinklings to be found on his latest album but they don't overshadow the whole project plus, in some instances, they are just working out fine. From Donny Hathaway's "This Christmas" to a very classy "Silent Night", Bob's taste in arranging and playing never gets bland over over-indulgent, unlike with so many other similar releases in this "genre" (is it still a genre? Never mind). Special guests here are lively and gospelly flutist Ragan Whiteside on "O Holy Night" and charming singer Corvina Nielsen on three tracks, with a spruced-up techy "We Three Kings" being the only real downturn on the disc. Bob is best on his two originals, the soulful title track and the equally tasty "December 25th".
Kenny Lattimore – A Kenny Lattimore Christmas. Speaking of soul, there is a fantastically funky and jazzy arrangement of "God Rest Ye Merry Gentlemen" on Kenny Lattimore's 11-track holiday album which has turned out to become our most-played and most-cherished cut this season. Simply amazing! Kenny is co-writer of six original tunes on the album, making this yet another one of those not-so-typical holiday collections. And with Kenny's voice in top form, he easily goes from modern r&b to soul to jazz to gospel. The album grows with each new listen.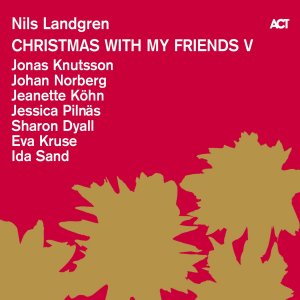 Nils Landgren – Christmas With My Fiends V. The most festive of them all is the fifth edition of Nils Landgren's Christmas series which consists, again, of a handful of beautiful, Scandinavian carols and hymns, classical pieces, and some original material woven together with classics like "Joy To The World" or "Sleigh Ride". Featured prominently throughout again on this latest edition, are singers Jeanette Köhn (responsible for the more classical stuff), Jessica Pilnäs (pop), Ida Sand (soul), and Sharon Dyall (gospel). Together with Eva Kruse on bass and Johan Norberg on guitar, this album is another one of those discs that you will get back to in the years to come. Some of the traditionals here are really intimately festive and celebratory. The sequence of the tracks is just perfect. Happy and peaceful holidays!