Stacey Kent – Summer Me, Winter Me
Stacey Kent just released an album of songs which she has performed live over the years, but never recorded. During three recording sessions, she has come up with 11 songs, two each by Michel Legrand and Jacques Brel, three new compositions by her husband Jim Tomlinson, Kazuo Ishiguro and Cliff Goldmacher, two standards and a Jobim classic. Jim plays tenor sax, flute, clarinet, guitar, percussion, and keyboards and Stacey sounds as always: easily recognizable, highly enjoyable, and as charming and fervent as ever.
The album opens with a superb, happy-go-lucky version of "Summer Me, Winter Me". The effervescent swing of the tune is hard to resist. Stacey glides and romps through the tune, spreading a lot of joy here. Stacey sings in French for "La Valse des Lilas", also known as "Once Upon A Summertime". The Legrand classic is opened by a haunting and beautiful sax intro before Stacey sets in full of sweet melancholy and grace. "Sous Le Ciel De Paris" becomes "Under Paris Skies", with English lyrics by Kim Gannon. Another hard-swinging tune with a great bass performance by Tom Hubbard. Love her sigh when she sings "oh I fell in love…". I think it's always pretty audacious to include Brel's "Ne Me Quitte Pas" into a set since this is such a profound statement and almost always completely changes the overall feel and mood of an album. But it works here, with the English lyrics by Rod McKuen turning it into "If You Go Away" and featuring a tender, but short-lived string quartet. She puts the French version to the very end of this set, by the way.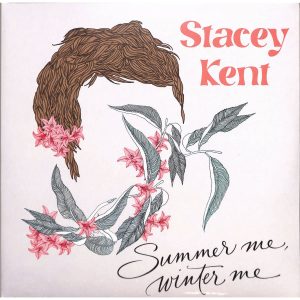 You have to make a complete break after this tune. So Stacey decides to make a quintessential turnaround and continues with "Happy Talk" which turns out just nice. As does the following "Show Me" which includes a neat time change. Pianist on almost all the songs is the great Art Hirahara. She has worked with him on her last album "Songs From Other Places". Here, I especially like his pretty effective playing on "Corcovado". Very unique and almost boisterous, but in a subdued kind of way. Also need to mention the brilliant arrangements by Jim. So what about the originals?
"Thinking About The Rain" has Stacey communicating the emotions in a brutally honest way. "If Life Changes Like The Weather, I Might Be With You Again. And That's Why I'm Still Thinking About The Rain". Lyrics by Cliff Goldmacher who is also responsible for the late-night affair "A Song That Isn't Finished Yet". The lyrics to "Postcard Lovers" are genuinely lovely. Here, songwriter Kazuo Ishiguro (Stacey has worked with him a lot over the years) has created yet another beauty, totally in sync with Stacey's pure and unadulterated vocals.
The album is out on vinyl too! Catch Stacey on tour:
11/09 Granada – Teatro Municipal Isabel La Católica
11/10 Madrid – Fernán Gómez Centro Cultural de la Villa
11/11 Gijón – Teatro Jovellanos
11/13 Sevilla – Teatro de la Maestranza
11/15 Zurich – Kirche Neumünster
11/16 Wroclaw – Centennial Hall
11/17 Berlin – Zig Zag
11/19 Katowice – NOSPR
11/20 Lublin – Centrum Spotkania Kultur
11/22 Oslo – Cosmopolite
11/23 Skive – Theater Foyer
11/25 Rødovre – Kulturhuset Viften
12/12-16 New York – Birdland