Terri Lyne Carrington – Five Paws
This is only the third album this year that receives a five-paw rating from Gina. It finds exactly the right balance between Jazz and Soul or, as drummer, producer, arranger, and composer Terri Lyne Carrington says in her liner notes, highlights the Soul in Jazz and vice versa. The album is the latest with her all-women Mosaic Project called "Love and Soul" and features an impressive list of featured guest vocalists.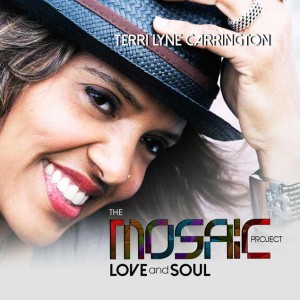 The only male artist on the entire album is narrator Billy Dee Williams who is heard on several tracks, like the opener "Come Sunday", Duke Ellington's spiritual hymn which is delivered here as a drum and bass breakbeat kind of track with superb vocals by Natalie Cole who sounds very convincing on the track, like she does in concert when she opens with "Summer Sun". There is also a neat alto sax solo by Tia Fuller.
Frank Sinatra's "I'm A Fool To Want You" is the perfect vehicle for Chaka Khan. It is great to hear her in wonderful shape. The arranging of the vocal chorus is just pure Chaka. Tineke Postma adds additional edges with her soprano sax. This is one of the fantastic characteristics of the album: each vocalist gets just the right treatment in terms of the material they're given. The other is the choice of material (six covers, six extremely cute originals) and the choice of the singers.
The Luther Vandross classic "For You To Love" has the beautiful Paulette McWilliams on background vocals – she sang on the original as well (actually on most of Luther's albums) and the vocal arrangement really sounds like Luther at his best. Oleta Adams does a great job here but the vocal arrangement almost steals the show – it is that good.
The first of six original Terri compositions is the ultra soulful "So Good (Amazing)" with very organic drum work and irresistible claps and virtuosic horn parts that won't leave your ear for a while. Singer Jaguar Wright is out of this world on this one with her powerful performance and strong vibrato. The legendary Valerie Simpson is re-doing "Somebody Told A Lie" from the 1976 Ashford & Simpson LP "Come As You Are". And she still sounds heartbreakingly strong. Listen to the end of the song for some real surprise moments in tempo and style.
The equally legendary Nancy Wilson is heard on Terri's "Imagine This" and boy (or girl) does she sound sensuous and gracefully restrained. The tune is simply oozing soul and class and has Lalah Hathaway on background vocals and Meshell Ndegeocello on bass. The production here, as on the entire disc, is flawless. It is getting hypnotic towards the end with vocals coming straight from heaven. And the magic continues: the late great George Duke is heard on the phone on "Best Of The Best", also a Terri composition (co-written by Valerie Simpson) which then starts with another extremely soulful and gritty groove (and those simulated claps on the drums) and only gets better the moment Chanté Moore chimes in. This is contemporary soul at its very best. We really need more of this!
There is a haunting, mid-tempo, lyrically dramatic "This Too Will Pass" featuring the majestic Lalah Hathaway which has some positive undertones ("hey there Mami I'll be rich someday…we'll be happy…") and which Lalah consequently delivers in honest and incredible fashion. Again, the horn arrangement is so 70s (and features Ingrid Jensen on trumpet) as is much of the album. The handclaps are back again on the mesmerizing "Can't Resist" where Terri takes care of the vocals with grandiose help of Alyson Williams. Patrice plays piano and Helen Sung is heard on Rhodes. The track builds into a thrilling, fascinating little ditty with a lot of addiction potential.
Tempo is down for the bittersweet Bill Withers song "You Just Can't Smile It Away" (from his 1985 LP "Watching You, Watching Me") showcasing the fundamentally deep vocal qualities of Paula Cole. Striking! Regina Carter adds light and soul on violin. The final original composition is another real gem: "Get To Know You" features Ledisi who is heard here with one of her best vocal performances to date. Horn and percussion arrangements are simply outstanding. A little electric keyboard tinkling here (Lauren Fuller) and an airy flute there (Tia Fuller) only enhance the performance which also has some strong guitar work (Felicia Collins).
The grand finale is Patrice Rushen's "When I Found You" (from her 1978 LP "Patrice") with the ever so graceful Lizz Wright. How sweet to have Patrice herself on Rhodes here plus Regina Carter, Rachel Z, Linda Oh, Ingrid Jensen, Tia Fuller, Grace Kelly, Alyson Williams, etc bringing this diligently crafted masterpiece to a stirring, fusion-induced and well-balanced end. Billy Dee Williams is heard at the very end: "Being creative saves lives". Extremely recommended!