The Impressions – Check Out Your Mind!/Times Have Changed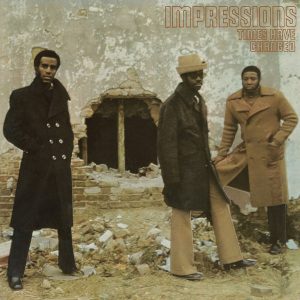 Curtis Mayfield left The Impressions in 1970 to pursue a solo career. It was Leroy Hutson who replaced him for the "Times Have Changed" LP in 1972, the only Curtom Records album which featured Leroy (he already left the group again in 1973). All of the songs (almost) were written by Curtis Mayfield and he also wrote all ten songs for his final album with the group, the 1970 "Check Out Your Mind!". Both albums are now available on CD. The group continued with Leroy, Fred Cash, and Sam Gooden.
The title track of "Check Out Your Mind!" with its Blaxploitation-themed string and horn arrangement and Curtis' signature vocals starts things off in a dramatic way. And the Southern-style ballad singing comes right after that on "Can't You See". The vocal harmonies on "You're Really Something Sadie" are truly one-of-a-kind. Too bad they're not doing them like this anymore. Each track comes with a fascinating musical soul underpinning, like the pretty percussive and wah-wah guitar-induced "Do You Wanna Win". That's soul at its purest. "You'll Always Be Mine" is a nice reminder of how well Curtis' voice could wrap around a sweet ballad melody. "Only You" sounds like a late 60s Temptations Motown piece and "Madam Mary" was already anticipating the big solo success which Curtis had from his very first solo album on. My favorite track has got to be the sweet soul anthem "We Must Be In Love" with its beautiful lyrics ("I sigh and don't know why/I sigh is it that I'm lonely for you/Are you lonely for me too/ We must be in love") an extremely catchy hook.
The Leroy Hutson-fronted "Times Have Changed" starts with the socio-political drama "Stop The War" where the lead singer was Fred Cash though. It's a guitar-heavy soul anthem which then makes way for the wonderfully tender title track. It proves that Leroy was a worthy replacement for Mayfield and that he probably had no other choice than go solo as well after this one album with the group. Marvin Gaye's "Inner City Blues" is more intense than the original and comes with a whirling string arrangement. "Our Love Goes On And On" is a track that Curtis recorded with Gladys Knight two years after this release for the "Claudine" soundtrack and, yes, it suits Frau Knight much better I think. My favorite from the album? "Potent Love". The vocal arrangement combined with the effective strings and masterly percussion all turn this piece into a sublime soul anthem. The only song that Leroy wrote for this album (together with Michael John Hawkins Sr.) is the midtempo ballad "This Love's For Real" and the only single to chart on the Billboard Top Pop Singles charts is "Love Me" which went as far as Number 94 and concludes the album on an upbeat soul flavor, somehow reminding me of some Norman Whitfield production ethics.