Theo Hill – Reality Check
The Rhodes on Stevie Wonder's "Superwoman" at the beginning of pianist/keyboardist Theo Hill's interpretation of the Wonder classic is worth the trip alone. He also makes use of the piano and some synth touches, echoing the original, somewhat mystical composition. "Reality Check" is the third release for Theo on the LA-based Posi-Tone label and features some of the best players around: prominently heard throughout the album is vibraphonist Joel Ross (whom I saw last July at North Sea Jazz in a spectacular performance), Rashaan Carter on bass, and Mark Whitfield, Jr. on drums.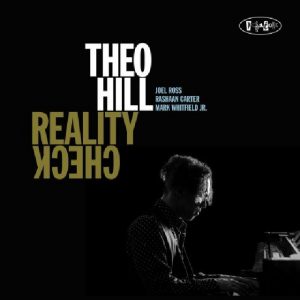 Some tour-de-force playing with exchanging chords and patterns by Theo and Joel makes a lot of fun on "Aquanaut" and there is an elegant beauty spread all over "Guardians Of Light", where Joel sounds miraculously like Gary Burton on some of his best recordings. The piece flows like a steady stream of water from a never-ending well and has Mark underpinning the proceedings here with astute playing and his honed skills as one of the finest drummers. There is lots of drama involved on "Mantra", a pretty percussive piece with lots of right-hand notes at dizzying speed. "Afrofuturism", on the other hand, has plenty of fusion-type elements in its airy composition.
I really like the slow and tender "Scene Changes" with its nonchalant shape and would have liked to hear more of Theo's Rhodes playing like on the pretty fascinating "Swell" which also has a steamy vibes solo. The other two cover pieces here are David Berkman's "Blue Poles" which opens the album on a rather urgent and forceful note, and Mulgrew Miller's "Pressing The Issue" (from Mulgrew's MaxJazz trio album "Live at Yoshi's Volume One" with Karriem Riggins and Derrick Hodge), played here as yet another sinewy entry. Theo proves his ravishing compositional skills on the album closer "Song Of The Wind", another dense and layered midtempo beauty showing the four members of this quartet as a very grounded entity. Love it!