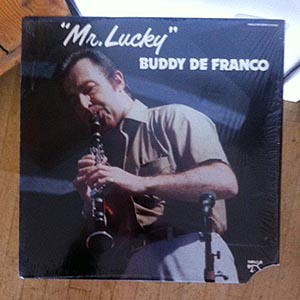 The famous clarinetist died on Wednesday in Florida at the age of 91.
DeFranco was the most popular bebop clarinetist who joined Gene Krupa's band in 1941 and later those of Tommy Dorsey, Count Basie, and Glenn Miller. After those big band and swing years, he was one of the very few who took the instrument over to the music that Charlie Parker popularized and yet, DeFranco never received the same popularity as Artie Shaw or Benny Goodman.
This is the cover of his 1984 Pablo LP "Mr. Lucky" which also includes Joe Cohn on guitar, Albert Dailey on piano, George Duvivier on bass, and Ronnie Bedford on drums. In the liner notes to this great album, DeFranco says "…that I tried deliberately not to jump in on some "hip" trend or fad in the jazz field. My 43 years in the profession have taught me that to be "hip" for the sake of "selling it now" soon proved very stale and not hip."
Throughout his career, DeFranco's recorded output was anything but stale. He went on to record and perform with vibraphonist Terry Gibbs in the 80s and 90s, recorded for various labels, among them some fruitful albums on Concord during the 90s and continued to record until 2007, when his album "Charlie Cat 2" came out on Arbors Records.