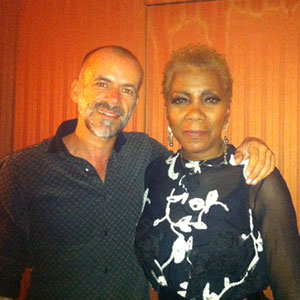 When I found out that Carmen Lundy would be on a European tour, I knew that I had to see her somehow somewhere. As there were no German tour dates on the itinerary, my first thought was to fly to Paris to check her out at Duc des Lombards. It didn't work out so Vienna was the alternative even though she had strong competition because Bilal was performing in Berlin that same day. But you got to set priorities right?  I went from the airport straight to the soundcheck when I met a pretty upset singer who was forced to change locations (from the Jazz club Porgy & Bess to the theater/foyer "Rote Bar" at the Volkstheater) where the sound didn't work out, the mics she wanted weren't there and pretty much nothing she had asked for, materialized.
Anything but perfect conditions for an interview so we postponed our talk to the next day. For us in the audience, the sound and the show were good. Carmen had total control at the bandstand, and delivered an energetic, beautiful, highly entertaining set. The set consisted mainly of songs from her new album "Soul To Soul", which came out about a month ago and where she enlisted an impressive number of guests. But even more impressive are her songs, all her own original material, which worked out great with her fantastic band. Patrice Rushen on piano and keys (and supporting vocals), Darryl Hall on bass, and Jamison Ross on drums (and supporting vocals) all helped Carmen to sound as comfortable and convincing as possible under those circumstances. The beauty of songs like "Life Is A Song In Me" came across 100% and the crowd thanked her with enthusiastic response.
Carmen also painted wonderful sound pictures with the equally beautiful "When Will They Learn" (about losing friends from drug addiction), and the very powerful "Grace". She also included the bossa-inflected "Everything I Need" in her set.
She was still upset the next day when I chatted with her in the lobby of her hotel, but all of that was forgotten when we spoke of the creative process of making her album which, as it seems, was like a little wonder and a little dream come true (more on the album later in the review section on this page).
Her strong stage presence, distinctive voice and the sheer beauty of her songs made the show worth the trip. Carmen is playing New York's Jazz Standard in early December (see events section for exact dates).