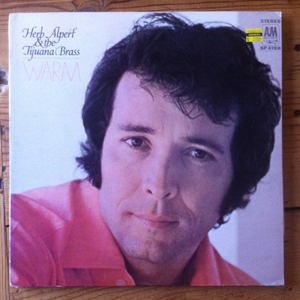 Over 72 million records sold, 28 albums making the Billboard charts, co-founder with Jerry Moss of A&M Records, nine Grammy Awards, a new album last fall ("In The Mood"), and a recent 12-day run at New York's Café Carlyle – Herb Alpert celebrates his 80th birthday today.
The last time I saw him perform live was at the Northsea Jazz Festival in The Hague in 1997 where he sang a moving version of "This Guy's In Love With You". Stephen Holden of The New York Times, who saw the Café Carlyle show, wrote in his piece on March 15th: "His trumpet solos were models of rhythmic precision, tonal subtlety and expressive understatement, executed without showboating."
It was Herb Alpert who took a young Sergio Mendes and his Brasil '66 on tour with him and then signed them to his company. In the liner notes to their first joint recording from 1966, Alpert writes: "From the first note I was grinning like a kid who'd just found a new toy. The group is headed by an amazingly talented piano playing arranger…Sergio Mendes."
For the album "I Feel You" from 2011, another one that he recorded with his wife of 41 years, the singer Lani Hall, he said that "I see music in images. Sometimes fleeting and sometimes as a story, usually guided by the lyric or the feeling." And then of course is his Tijuana Brass, the band he recorded with during the 60s and beyond. Burt Bacharach, who worked with him on "This Guy's In Love With You", said in a statement for the "Definitve Hits" collection: "I've always respected Herb, his musicianship, what he did with the Tijuana Brass and what he's done with the different avenues he's explored. I think he's a great, great trumpet player and pretty identifiable which is not always easy to be."
Herb Alpert plays Tokyo's Blue Note club next (April 17th to 20th), Solana Beach (May 7th), Ventura (May 8th), Carmel (May 9th), Costa Mesa (June 4th-6th), Montreal (June 19th), Rochester (October 2nd). Happy Birthday!