Gina @Berlinale with Maggie, Théo and Hugo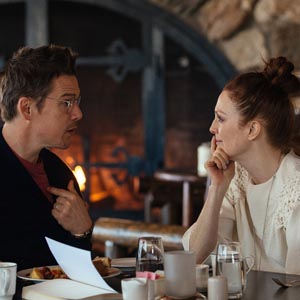 The more interesting and fulfilling movies on day 5 of this year's Berlinale were once again programmed in the Panorama section. Rebecca Miller's "Maggie's Plan" is about 30-something single woman Maggie (Greta Gerwig) from Brooklyn (craft bier and Bavarian pickles say hello) who wants to have her first child but after a series of bad relationships decides to ask for the semen of a pickles salesman. Right after that, she meets John (Ethan Hawke) who isn't happy with his marriage to Georgette (brilliant: Julianne Moore). And that's where the fun begins. All three main characters are portraying the deliciously insane modern-day Brooklyn (you can put in Prenzlauer Berg for Berlin here) adult with all his eccentricities and reckless stupidity.
There is a pretty long sex scene in a Paris darkroom in "Théo et Hugo dans le même Bateau" by Jacques Martineau and Olivier Ducastel. Turns out that Théo didn't use a condom while playing with Hugo (who is HIV-positive) so they decide to go to an emergency room right away to start a monthlong medication and then decide that they want to stay together. But for how long? Just for the weekend before Théo is having his next blood test? Or for a full month that he has to take the emergency medication? Or longer? Maybe 20 years before they spilt up, as Hugo forecasts? There is a great story of uncertainty, faith, and love unfolding with two wonderful leading actors (Geoffrey Couët, François Nambot). Another aspect: even though being HIV-positive is no longer a death sentence, the awareness that it is far from normal is one of the movie's subconsciously underlying themes. Bravo to that. It's a big step to admit it, but it is certainly ok.
And most of Madonna's background dancers on her 1990 "Blond Ambition" world tour were having the same problems, but were afraid to say so simply because their biggest fear was to get dumped from the show once their status had been known. And they were all in their early 20s back then and there was a different kind of therapy to keep the virus from spreading (and not as successful as later with the triple therapy). It is a sweet scene in "Strike A Pose" when directors Reijer Zwaan and Ester Gould bring the team back together after about 25 years, with one of them actually admitting in the movie for the first time that he's been positive for many years. Madonna was preaching to be true to yourself on that particular tour and yet, several of her group were telling anything but the truth.
I can't say much about Danis Tanovic's competition entry "Smrt u Sarajevu" (Death in Sarajevo)" simply because this modern interpretation of "Hotel Europa" is a nerve-racking fight between Serbia and Bosnia-Herzegowina. Bland and boring. Been there done that. Enough is enough. And yet, again, putting the never-ending dispute into your consciousness is a brave step. It's just that we are currently having too many of those.