Singer and guitarist Chico Lessa moved to Rio de Janeiro at the age of 17 and quickly made a lot of friends there. He recorded his first LP independently back in 1982 with a total of 36 musicians and released only two more albums, "Orifício É O Que Não Tem Parede" (1995), and "No Trem De Sempre" (2009). Now, the wonderful folks at Vampi Soul in Spain have come up with the first ever vinyl reissue of this classic MPB album which features some of Brazil's leading musicians and engineers, arrangers and composers of that time. Complete with new liner notes from the master himself, dozens of photographs from that session and all credits and lyrics from the original inner sleeve, this is truly a must-have for all lovers of Brazilian music. No, for all lovers of music. Period.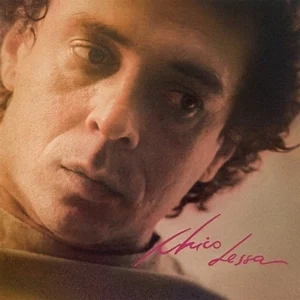 The great Mauricio Maestro, of Boca Livre fame, wrote the uplifting lyrics to the album opener, "Menina Dos Olhos", which features ethereal backing vocals, feisty handclaps, and that unequivocally positive attitude only Brazilian musicians seem able to communicate. The vocals by the way, are partly provided by the group Céu Da Boca (Maucha Adnet, Verônica Sabino, Paula Martins), who recorded their brilliant "Baratotal" LP the same year. Definitely worth checking out. While writing this, a heavy rain is raging outside and the perfect soundtrack seems to be "Choveu", complete with haunting cello by Jacques Morelenbaum and Leo Gandelmann on oboe and French horn. And there is the typical saudade on the brilliant "Me Pega, Me Larga" with simply breathtaking backing vocals. What a thrill.
After a short instrumental interlude with "E O Bicho Não Deu", "Bom De Doer (Samba Pro Marcinho)" exudes so much joy, warmth, and love of life that's really infectious. Chico's vulnerable and at the same time somehow grounded and coherent voice perfectly underscores the fusion stance of "Terra Bruta". The great Wagner Tiso arranged the jazzy "Ás Vezes Eu Fico Assim", which features a great soprano sax solo by Mauro Senise who would record his first solo album about six years after these sessions. And there is this boisterous joie de vivre again on the not to be missed "Quebra Pedreira". We love this record!