Caecilie Norby – Earthenya
Released in early November, this is Caecilie moving into new terrain here since this is her first album where she explores the soul/pop side of her and writing all of the 11 songs on board and releasing them on her own, recently established label Loud Lady Music. She will continue to record for the German ACT label in the future, but wanted to share this special side of hers using another vehicle. The band played with her on a Danish music TV show back in 2019 and the chemistry between them worked so well that they decided to record an album: Poul Reimann on piano and keys, Jacob Gurevitsch on guitars, Kristor Brødsgaard on bass, and Kristoffer Sonne on drums. They are supported by numerous special guests here, such as Lars Danielsson (Caecilie's husband) Nils Landgren, Randy Brecker, and Marius Neset.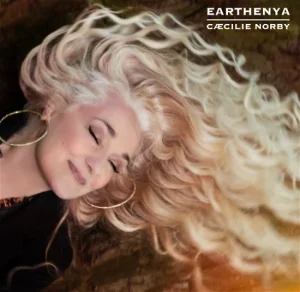 She can be sultry and sexy on the soul-induced opener "Soul Sister" which features Nils on a slick trombone solo, but also warm and tender on the beautiful and soothing "Same Old Smile". She writes perfect pop songs like "Downhill" which comes along with a pretty funky guitar and which has a hook that won't leave your head for quiet some time. We also get an exhilarating "Don't Be Mean" with just the right amount of exoticism courtesy of Simona Abdallah playing the darbuka, a goblet drum. Randy Brecker can be heard on the midtempo title track, another swaying soul tune conveying both fun and a large proportion of coolness.
And she can also lead a pop-rock tune with blues connotation on "Stealing Your Shine". I really like the gentle touch of "Summer Of '70" which glides along effortlessly and viscerally. She taps into Ethno pop on "Skeletons", which features a strong soprano sax by Marius Neset. To me, she sounds most convincing and at ease when she delves deep into her soul roots on "Walk A Little Taller" which includes some warm and sunny keys and a rootsy horn arrangement. Above all, there is this amazingly versatile voice which, at best, easily draws you into her world, like on the poignant and piercing album closer, "Hazy Afternoon".
The album is out on vinyl, too. Caecilie plays Kurhaus Hamm On February 24th and Jazzfestival Basel on April 26th.