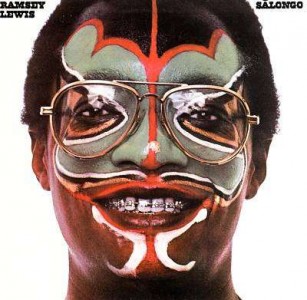 It was just last week at an industry convention BBQ when I was spinning a couple of tunes from the great Ramsey Lewis. Those two songs in question are timeless tracks from his productive 70s period: the Maurice White-produced "Sun Goddess" from the album of the same name (1974) and the equally legendary "Brazilica" from 1976, also produced by Maurice White and Charles Stepney (from the LP "Salongo"). His albums from the 70s rank among the top list of Soul/Jazz LPs which feature a lot of exciting electric keyboard work as well.
Ramsey recorded his wirst work with his Gentlemen of Jazz back in 1956 before it simply became the Ramsey Lewis Trio with Eldee Young on bass and Redd Holt on drums. Their career climaxed in 1965 when they recorded the Dobie Gray song "The In Crowd" at a club in Washington. The song became a Gold record and received a Grammy award. Maurice White of Earth, Wind & Fire was his drummer for a short period before he went on with his own group and there were also some successful collaborations with singer Nancy Wilson. He also wears a lot of different hats, like artistic director for the Ravinia Jazz Festival in Illinois, radio DJ, composer, educator, etc. He carried the Olympic torch in 2002 as one of the very few jazz artists who had that privilege. And talking of privileges: I had the great pleasure of interviewing him on his last visit to Berlin about 12 years ago.
His most recent album is the 2011 record "Taking Another Look" which showcases him taking another look at the Fender Rhodes. And this is what he says on his website about the instrument: "I was pleasantly brought back to what I loved about the instrument.  Unlike an acoustic piano, you get that groove-oriented electric sound.  And, you can add vibrato, enhance bass and treble.  As a musician, it allows me to take on different and exciting roles.  I feel almost like a horn player or even a singer because of the Fender Rhodes' unique qualities and capabilities."
2015 marks the 50th anniversary of the release of "The In Crowd" which he recently celebrated at Sculler's in Boston. Ramsey is playing Heinz Hall in Pittsburgh with the Pittsburgh Symphony Orchestra on June 16th, Highland Park in Illinois with the Chicago Symphony Orchestra on August 8th, the In Crowd 50th Anniversary Show in Costa Mesa on October 10th and in St. Louis on November 7th, and the Holland Performing Arts Center in Omaha on November 13th.
Happy 80th Birthday!