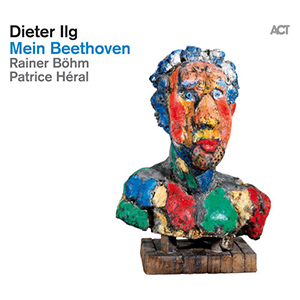 After exploring Giuseppe Verdis "Otello" and Richard Wagners "Parsifal", bassist Dieter Ilg is now turning to Ludwig van Beethoven for his latest ACT Music release. This is not one of those typical Jazz Classic cross-over projects, though, but rather an album of simply adventurous, beautiful, and innovative interpretations on 13 of Beethoven's pieces.
The bassist, who in the past has also worked with the likes of Dave Liebman, Randy Brecker, or Nils Landgren, has put together an impressive de-and reconstruction of these classic works by playing with form, melody, and harmony in a way that very often doesn't remind you of the original artist's work. He is accompanied by pianist Rainer Böhm and drummer Patrice Héral on this maginificent set. The trio grooves, swings, and captivates on "Pastorale" or "Sturm", but also gets into a poignant mood for "Ode" (9. Sinfonie) for example.
Ilg's bass builds the solid foundation to a mesmerizing set, especially in vivacious pieces like "Arietta" (based on Klaviersonate Nr. 32, Opus 111) which is also a brilliant showcase for pianist Böhm's effervescent playing. But the leader gets a lot of solo space himself but without coming to the fore too much ("Dankgesang"). And he tackles the Klaviersonate Nr. 8, "Pathetique" with aplomb and character in two inspirational pieces. There are also two tracks from Beethovens Irish Songs here (the riveting "Return To Ulster" and "Soldier's Dream") and the album finishes with a lyrical "Mond und Schein" from the "Mondschein Klaviersonate Nr. 14").
Dieter Ilg and his trio are on tour celebrating the release of "Mein Beethoven":
2/12 Hamburg, Rolf Liebermann Studios
2/13 Hamburg, Rolf Liebermann Studios
2/15 Berlin, A-Trane
2/16 Hannover, Jazzclub
2/19 München, Unterfahrt