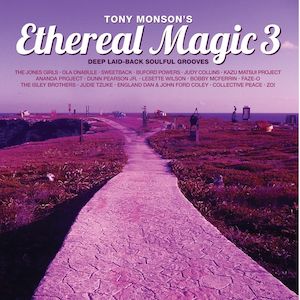 We have published our reviews of the first Ethereal Magic compilation on November 16th, 2015 and of the second installment on December 2nd, 2016 and have eagerly awaited the third edition. Well, here it is. And it starts off with the most sensitive and the sexiest cut The Jones Girls ever recorded. "Children Of The Night" is  from their "At Peace With Woman" LP (1980) on Phildelphia International Records and was later covered by Cassandra Wilson (on "Blue Light 'Til Dawn", 1993 – also a brilliant version). Sounds like a very good opening. Things turn into R&B mode with the great singer Ola Onabule with a track from 1999. "The Picture" has all the right Ola ingredients: his strong and fulfilling voice, social lyrics, and crisp production.
Remember Sweetback? It was Sade's backing band, consiting of Stuart Matthewman, Andrew Hale, and Paul Denman. Their self-titled debut album in 1996 (there was only one other in 2004) featured some brilliant vocalists: Maxwell, Bahamadia, and Leroy Osbourne. Featured here is "You Will Rise", which was also released as a single and fronted by the wonderful voice of Amel Larrieux who has come up with an impressive discography herself since then. Still resonating to this day: the smooth groove, fancy electric keys, unorthodox instrumental fade-out, and of course Amel's voice. I haven't heard of singer Buford Powers before, but his signature baritone voice, pretty deep and lush rapping style over some cool keys are instantly catchy. Even if the horn part isn't and sometimes it seems that the frog wants to come out of his throat.
The nice thing about Tony Monson's compilations of this series is the fact that he never seems to care about genres. That's why "I Think It's Going To Rain Today", Randy Newman's classic, doesn't come over as an alien here. We are treated to the 1966 version by Judy Collins which features some haunting, beautiful violin. I never really cared about Kazu Matsui, the Japanese shakuhachi (a flute made of bamboo) player because production on his 80s albums were mostly a bit corny and over the top. But I must have overlooked this very catchy piece from his 1983 LP "Standing On The Outside" which features Robben Ford on vocals. Very 1983!
Changing into light house mode now with the Ananda Project and a cut from 2007. "Into The Sunrise" showcases vocalist Terrance Downs who reminds me of Will Downing in places. A pretty comfortable groove which constantly stays in subdued mode and never tries to forge ahead into heavier dance stuff. Very cool. I still remember buying Dunn Pearson Jr.'s 1990 LP "Color Tapestry" simply because it was pretty expensive at the time since it was a rare import from the US. But I wanted it nevertheless just because Dunn appeared on so many great albums and he had Grover Washington, Jr., Jocelyn Brown, Connie Harvey, Benny Diggs, Doc Powell, and many more on his album. Which then turned out to be quiet disappointing because of its heavily over-produced nature. The track which stands out is featured here: the Roy Ayers tune "Programmed For Love" which Roy recorded for his 1986 LP "You Might Be Surprised" which featured, you guessed it, Dunn Pearson, Jr.
Cult artist Lesette Wilson is included here with a stunning track from her 2001 album "Livin' In The Zone". "One" has J. Phoenix on lead vocals and the flowing midtempo groover still resonates today. There is also a nice and welcome return of Bobby McFerrin's version of Van Morrison's "Moonsong" from Bobby's first album released in 1982. And The Isley Brothers return too (they were featured on both of the previous editions as well) with their cherished "Groove With You" from 1978. Pure Isley bliss. Faze-O was a group from Dayton, Ohio which was produced and arranged by the Ohio Players and their sexy and mellow "Riding High" single charted in the US R&B charts in 1978. Check out their album of the same name which came out the year before and includes some infectious cuts, like "Toe Jam". Their hit single is featured here. Very cool to stumble back on this one. The group only released two more albums in 1978 and 1979. All worth checking out. Especially the 12-minute "Who Loves You".
I was listening to a lot of Radio Luxemburg, AFN, and BFBS as a 13-year old and even though I immediately fell in love with all the soul greats from Stevie Wonder to Marvin Gaye, from Quincy Jones to George Benson, I always had a fondness for great voices, fancy compositions and deep and soulful songs too. The kind of stuff that Fleetwood Mac released during that period. That's why I got hooked on singer Judie Tzuke in 1979 (I hadn't yet discovered Morgana King). Included here is her 1979 "Stay With Me 'Til Dawn" from her debut album "Welcome To The Cruise". She later got me with pieces like "Understanding" (from the 1980 LP "Sports Car") and "Come Hell Or Waters High" and "Higher And Higher" from "I Am The Phoenix" (1981). Great choice! Staying in this corner is the 1978 "Love Is The Answer" by England Dan & Jon Ford Coley, written by Todd Rundgren. Fair enough.
The album concludes with a track by Detroit-based group Collective Peace. The nine members come up with a laid-back, sensual modern soul cut called "Let The Music Play" with some addictive drum and percussion work and the really fantastic voice of Ideeyah Johnson. We certainly need more of this! Pianist and producer Zo! has turned up on a lot of compilations in recent years. He is also featured with The Foreign Exchange, is also from Detroit and his real name is Lorenzo Ferguson. His own albums are all worth checking out – the last from 2016 is called "SkyBreak" and features Sy Smith, Carmen Rodgers and Phonte. "Flight Of The Blackbyrd", the cool and sassy jazz/soul/fusion cut from his 2011 album "Sunstorm", is featured here, complete with E,W&F/George Duke-like vocals, fancy trumpet, and extremely intoxicating groove. Another hot and cool (you decide) compilation to fall back on.