John Surman – Invisible Threads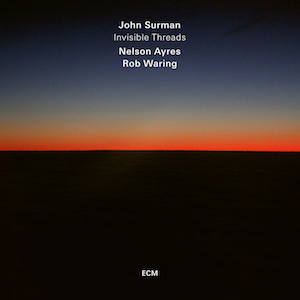 My first encounter with the music of saxophonist and clarinetist John Surman was in 1985 when I bought his ECM LP "Withholding Pattern". Its deep lyrical passages, very intense soprano and baritone sax and bass clarinet playing was extremely fascinating and fulfilling. Still is! John was mostly recording on his own at the time with additional use of piano, synthesizer, and recorder. Check out also his 1988 ECM LP "Private City".
Over the years, I was more or less concerned each time a new John Surman record was released, but I regularly went back to his "Withholding Pattern". When I read that he was working with two artists that he had never recorded with before, I immediately wanted to hear the results. With Brazilian pianist Nelson Ayres (John had played with him live before) and American vibraphonist Rob Waring, the new ECM album "Invisible Threads" was, like its 80s predecessors, recorded at Oslo's Rainbow Studio (both John and Rob are now living in Norway). I was always fascinated by a trio environment like this and how it would work with rhythm when there was no rhythm section involved. Nelson, as a highly percussive piano player who has worked with Airto Moreira, Milton Nascimento, or Chico Buarque, has a healthy amount of rhythmic interplay in his aesthetic anyway.
So this trio met for the first time only a few days prior to recording and the result is breathtakingly beautiful. The pulsating energy is there in "louder" pieces such as "Concentric Circles" or the bright and breezy "Summer Song", written by the pianist and the only track not composed by the leader himself here. The three musicians dance together. Always intuitively hearing what the other is anticipating and thus, finding the right ingredients and movements to hang in there. There are a couple of tracks where John plays the bass clarinet and Rob switches to marimba and their sound and ideas sublimely gel. The waltz-like title track as the album closer protrudes yet another new aspect of rhythmic nuance that it is really hard to believe that almost an hour went by since the opening, short "At First Sight".
In the liner notes to the album, John confesses that "growing up near Dartmoor and Cornwall, I loved the open spaces. I can't deny that there's an Englishness deeply ingrained in my music, and why shouldn't there be?" I have visited Dartmoor and its surroundings a few years ago and even though there is a certain brusqueness spread out in front of you, I can not deny an almost intimidating beauty of its nature. How they manage to come up with almost chamber-like passages in pieces like "Autumn Nocturne" is simply amazing. And I have always adored the sound of the bass clarinet. The moment Rob slowly, tentatively chimes in after John's opening solo presentation on "Within The Clouds" is just awe-inspiring. And the way both piano and vibes interact before the sax bounces in on "Byndweed" to shape the tune's somewhat forlorn gestalt is also something else.
But this isn't anywhere near dismal or funereal regarding the overall atmosphere and sound of the album. Pieces like "The Admiral" or "Pitanga Pitomba" (named after two Brazilian fruit trees) offer glimpses of delight and joy and seamlessly fit into the total work of art here. Listen closely, without any distraction, and the reward is priceless. Needless to say that the sound quality is excellent again.
Follow:
Share: