Lehel/Olah/Schulz – Lyrical Album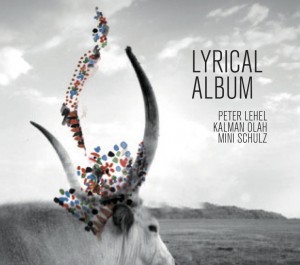 German saxophonist Peter Lehel has teamed up with Hungarian pianist Kálmán Oláh and bassist Mini Schulz for his "Lyrical Album", a trio project where both Lehel and Oláh wrote and arranged all the pieces, from the chambermusic-like, almost 15 minutes long opening piece "Bartok Impressions" to the two-part "Hungarian Research" with its eerie, nocturnal sojourn.
There are some beautiful, quiet and longing tracks like "Contemplation" where the pianist shows some impressive sides and proves why he is sought after by a lot of international jazz artists like Jack DeJohnette or Joe Lovano. Many of the tracks here are duo performances, like the rubato cascades in the ruminant "Always". It gets to the point though where a longer track like "Cry From The East" with its vast open improv lines gets lost in the mix and feels like a foreign body.
The strength of the album and its playing is, like the title suggests, its lyricism. There are wonderful harmonious duo conversations in "Dry Dreams" and Kálmán's playing is really fascinating throughout. Peter also switches to bass clarinet on the final piece "Dark Rose". It seems as if he is the one responsible for the more daring and courageous pieces whereas the pianist is coming up with the romantic, melancholic, and yes, more lyrical side.
Peter Lehel will perform at Stuttgart's Bix Jazzclub on March 23rd with guitarist Jo Ambros and bassist Mini Schulz.