First Two Eugene Record Albums Released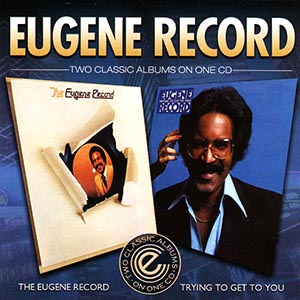 He is best known as a songwriter for timeless songs by The Chi-Lites like "Oh Girl" or "Have You Seen Her" or the successful "Soulful Strut" for Young-Holt Unlimited which later became a hit for his wife Barbara Acklin as "Am I The Same Girl".
Eugene Record left The Chi-Lites in 1976 to record three solo albums before he re-united with the group in the early 80s to release some more albums, among them "Me And You" and "Bottom's Up".
Now, his first two solo albums from 1977 and 1978, "The Eugene Record" and "Trying To Get To You", are available on one CD. And his first album already shows off his immense talent as a songwriter and singer (not that we had already known), someone with an uncanny knack for melodies and harmony vocals, evident not only in his timeless "Overdose Of Joy", but also in two of my favorite songs from that particular album: the blissful "Here Comes The Sun" (not the George Harrison song) and the magical "Mother of Love".
The title song from his second album was prominently covered by Valerie Carter, background singer for James Taylor. Many of Record's songs have been covered and sampled over the years. His dance-oriented third and final album, "Welcome To My Fantasy", was a brass- and stringheavy affair which yielded the stomper "Fan The Fire", a tune that I used a lot in my DJ sets in various Berlin clubs and bars in the 90s.
Eugene Record became a born-again Christian in the late 80s and turned to Gospel music. He died much too soon from cancer in 2005. It would have been his 74th birthday today.