Iiro Rantala – My Working Class Hero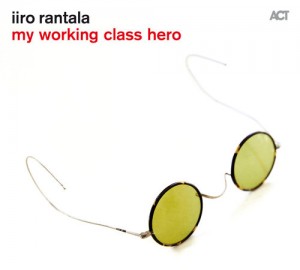 Finnish pianist Iiro Rantala refers in the notes to his John Lennon tribute album to Lennon's honesty in his songwriting and that he really believed the things he sings about. Iiro has tackled different topics and collaborations in the past; the most intriguing probably his "Lost Heroes" album.
His new solo project opens with the Lennon/McCartney tune "Norwegian Wood" where he plays around with different layers and textures before coming back to the original melody and some dramatic-sounding ending. The title track, from Lennon's 1970 Plastic Ono Band album and the first one after the Beatles split, is again some playful, imaginative take on various chords and inherits the dark, sociocritical message.
I have to admit here that I've never been a John Lennon fan re:his solo work but Iiro gives the songs so many original spins that it is mostly a joy to listen to them in this format. The totally bland "Just Like Starting Over" (from the much over-rated "Double Fantasy" album from 1980) is turned into a joyful little ditty with just about the right amount of earthiness.
There is one track here which was not written by Lennon, but recorded for his 1975 LP "Rock'n'Roll": the Lloyd Price song "Just Because" (written in 1957) is offered as a sweet and lovely ballad here. As is "Woman", which in its raw form actually is a beautiful love song but was completely destroyed by Lennon's appalling vocals. Here, Iiro strips it down to its bare and wonderful essentials: simplicity to maximum effect. It's the longest track on the record clocking in at just over seven minutes and showcases Iiro as an extremely versatile and gifted pianist with many fancy ideas. The final vocal chorus of the original is transformed into a swinging and grooving paean.
There is also a dark and sinister "Imagine", capturing the vague optimism of the original, a catchy and loose "Help" with some stop-and-go cuteness, the craziness and insane story of "Watching The Wheels" with bluesy undertones, and another dramatic version of "Oh My Love" (from the 1971 "Imagine" LP). One of the better Lennon songs, "In My Life", from the Beatles album "Rubber Soul" from 1965, with music from Paul McCartney, is another strong choice with tension and relief aspects in Iiro's playing which always helps in a solo piano setting to produce enough attention.
"Happy Xmas, War Is Over" actually doesn't sound like a Christmas song at all in Iiro's hands (and thankfully so) and he is in a celebratory mood on the album closer "All You Need Is Love".
Iiro is on tour in Europe in early October and plays Berlin, Cologne, Zurich, Stuttgart, and Maastricht, among other cities.