Joyce Moreno Kenny Werner Duo On Tour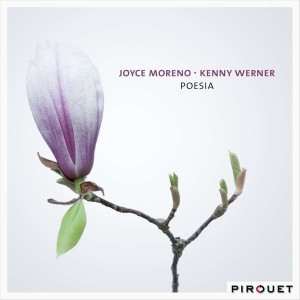 Brazilian singer and songwriter Joyce Moreno and pianist Kenny Werner are touring Europe in February in support of their recently released "Poesia" album, an intimate collection of 13 songs from the Brazilian and American songbook plus a traditional and a beautiful original tune which opens the album: "Second Love Song" is as pure and concentrated as it gets.
Elsewhere on the album, there are two tracks by Dori Caymmi, with "É O Amor Outra Vez" being the most fragile and intense among them. Originally from Dori's 2010 album "Mundo De Dentro", and a song that Maria Bethania also recorded in the past. The other being "Velho Piano" (1988). Edu Lobo is also represented here on this warm collection: "Pra Dizer Adeus" (1985) and "Choro Bandido", the latter of which written together with Chico Buarque (1985) and further establishing Joyce as one of the most substantial singers of this material.
The mood on the duo album stays consistently somber and melancholic, augmented by Kenny's sensitive and at times surreal playing, like on the Bruno Martino classic "Estate". Joyce also tackles Great American Songbook terrain, like a wonderfully stretched out "Mad About The Boy" where she shines with an uninhibited, implied vibrato and carefully elongated syllables. The same applies to Charlie Chaplin's "Smile"; the sympathetic noncompliance is one of her biggest assets here. I do have problems though with "Some Other Time", the Leonard Bernstein song that had recently been covered by Nils Landgren as well and which doesn't stand the test of time against the sublime and perfect version by Irene Kral (1973 duo album "Where Is Love?" with Alan Broadbent).
Joyce covers Abbey Lincoln's "Throw It Away" with an uncanny elegance and thorough knowledge and with Kenny accompanying and backing her, this is an album that brings a lot of joy and contentment. But what I originally intended to say here is that both of them are on a record release tour in Europe. So here you go and I hope to see you out there for the Berlin gig.
02/04 Milano
02/05 Munich
02/06 Ancona
02/07 Vasto
02/08 Salerno
02/09 Vienna
02/10 Berlin
02/11 Melfi
02/12 Palermo
02/13 Ferrara.
A US tour follows in April with stops at the Blue Note in New York (18th) and Regattabar in Cambridge (19th).
Follow:
Share: