New Nina Simone Tribute Album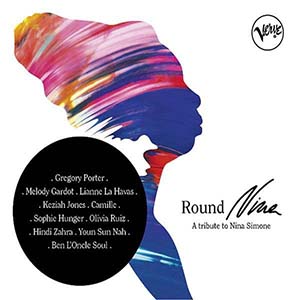 It really happens quiet often that prejudices are proven true in the end. When I read the names of the ten artists on the cover of the new Nina Simone tribute album "Round Nina – A Tribute To Nina Simone", I immediately thought that especially three artists wouldn't do anything to me or enhance this project. But the good things first: This French project produced by Maxime Le Guil and Clément Ducol and recorded in Paris, brings together ten very different artists to celebrate the songs by the legendary diva. And the songs chosen here cover the whole period of her recording life.
The album starts very promising with the Randy Newman song "Baltimore", which was taken over by Simone and was one of her signature songs, event though it is said that she didn't like the whole album where the song is from. Here, Lianne La Havas tackles the tune with soul and grace. Interestingly, the vocal that comes closest to Simone's is that of a male singer: Keziah Jones is dealing with "Sinner Man" as if he had recorded it back in 1965. Amazing. The otherworldy and totally unique voice of Hindi Zahra delivers a haunting version of "Just Say I Love Him", which Simone recorded twice in her career. And Gregory Porter, who seems to be everywhere these days, has a hypnotic and obsessive version of "Black Is The Color (Of My True Love's Hair)" with sexy backing vocals by Melody Gardot who has her own solo spot on the album with a very spare "Four Women".
There is also a very subdued and at the same time funky "Feeling Good" by Ben L'Oncle Soul and an intense and innovative "Plain Gold Ring", recorded by Simone for her very first album in 1957, by the Korean singer Youn Sun Nah who is very popular in France.
The rhythm section on all tracks is a solid one: Bojan Z on piano, Christophe Minck on bass ans Cyril Atef on drums. Plus there's the occasional orchestral arrangement thrown in for spice.
And the three tracks that don't work at all here are by the three French/Swiss puppets Olivia Ruiz, Sophie Hunger, and Camille. It is almost pathetic to hear Hunger trying to emulate the cry for unrequieted love in "I Put A Spell On You" or the infantile and ludicrous Ruiz who had the unfortunate task to cover "My Baby Just Cares For Me" which is ruined here by a disastrous performance.
But if you throw those three songs out, this is very entertaining Nina Simone tribute.
And speaking of "Four Women": the most interesting and appealing version is from René Marie's album "How Can I Keep From Singing?" from 2000 on Maxjazz. It features Mulgrew Miller on Rhodes, Ugonna Okegwo on drums, Marvin Sewell on guitar, Gerlad Cleaver on drums and Jeffrey Haynes on percussion.