Terri Lyne Carrington – "new STANDARDS vol. 1" on Vinyl
Pioneering drummer Terri Lyne Carrington has come up with yet another groundbreaking book and accompanying album. On the lookout for women composers of the Real Book jazz charts, she couldn't find any. And thus, created her own, "New Standards: 101 Lead Sheets By Women Composers". The accompanying album is nominated for Grammy Awards in two categories: Best Jazz Instrumental Album (there are several vocal tracks here though), and Best Improvised Jazz Solo for guest trumpeter Ambrose Akinmusire on "Rounds (Live)".
Terri's goal is to record all 101 compositions. Here are the first 11, co-produced by guitarist Matthew Stevens who is part of the core group of musicians which also include Nicholas Payton (tp), Kris Davis (p), and Linda May Han Oh (b). The aforementioned piece with Ambrose closes out the album on a pretty fierce and loose note, with lots of cascading patterns and eruptions. The tune was written by pianist and composer Marilyn Crispell and can be heard on her "Spirit Music" LP from 1983 with Billy Bang on violin.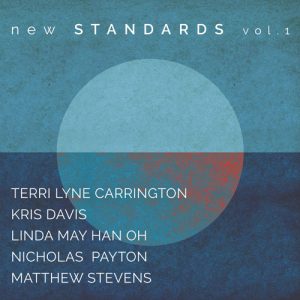 There is a great re-interpretation of harpist Brandee Younger's "Respected Destroyer" (from her 2019 album "Soul Awakening") which features the bold and rollicking, yet at the same time thoughtful and well-considered flute of Elena Pinderhughes and also Ravi Coltrane on sax. Elena is also featured on "Wind Flower", the album's opening track. The combination of flute, trumpet, and guitar (Julian Lage in this case) is especially rewarding here and many many kudos to Terri for coming up with this tune which was written by pianist and composer Sara Cassey, an undeservedly lesser known pianist and composer who, even though she didn't perform in public, was pretty well-known and respected after she moved to New York from Detroit and started work at Riverside Records where she soon got to meet many of the artists who were then recording for the label. There is a great version of "Wind Song" by Marian McPartland, too (on her "Portrait Of Marian McPartland" LP on Concord, 1979), and Hank Jones also recorded the piece on his "Hanky Panky" set for East Wind in 1975.
A haunting shuffle beat underscores "Uplifted Heart", written by pianist Shamie Royston who recorded this for her 2018 Sunnyside album "Beautiful Liar". Elena gives this an almost otherworldly feel, spurred on by soulful percussion work courtesy of Negah Santos. The interplay between Ravi and Nicholas is thrilling. The tune has an electronic backdrop provided by Val Jeanty. Very satisfying outcome. As is the beautiful ballad "Ima", written by clarinetist Anat Cohen. Julian Lage and Kris Davis really capture the warm and tender mood here. Nicholas Payton proves once again why he is one of the most prolific trumpeters around, as showcased on "Unchanged" and "Continental Cliff". Both exceptionally lively and compelling pieces.
So what about the vocal tracks then? I have always admired "Two Hearts" by the great Carla Bley. Kurt Elling recently recorded the tune for his "SuperBlue" album and here comes young singing wonder Samara Joy, proving that no, she is not only your regular standards singer, but excels and shines on this one too. And there is really nothing Dianne Reeves can't do so no wonder she does a sublime work on the Eliane Elias ballad "Moments". Pure bliss. And I really dig the percussive treatment of Abbey Lincoln's "Throw It Away", sung by Melanie Charles and Somi. Both tackle this classic with individual forte, but also are bound together in admiration and awe. Sounding incredibly good. And finally, Michael Mayo – I saw him last July at North Sea Jazz leaving me wanting to hear a lot more – sings Gretchen Parlato's "Circling" as if it's his own. Lookout for Gretchen's new album with Lionel Loueke coming in April. And Terri? The album is led by a drummer, but the drummer never pushes herself to the fore – a rare feat, but that's who she is.
The album came out in mid-September and vinyl is finally on the horizon for January 20th.