Incognito – Live in London 35th Anniversary Show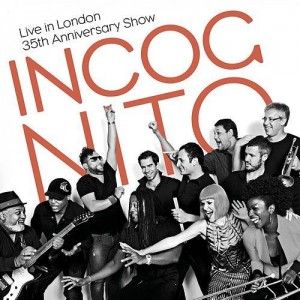 It is really hard to believe that Incognito already celebrated their 35th anniversary last year. But then again, if you think about it, they have accompanied me musically ever since the early 80s so there you go…
Founder and band leader Bluey assembled his group plus a few guest vocalists for a party-like concert on July 12th, 2014 at London's O2 Shepherd's Bush Empire and the result is a 22-track live album showcasing as much of their repertoire as possible (so far Incognito have released 17 albums to date). Group member Vanessa Haynes is featured on the Atlantic Starr number "Silver Shadow", among other tracks. As are fellow vocalists Katie Leone who has just released her own album, and Tony Momrelle. The 15-piece group is also known for their crisp and funky brass section and of course their front man Bluey who is responsible for writing the majority of the tracks and who also plays guitar, percussion, and can be heard on vocals.
So you get all the cherished and well-known numbers like "Hands Up" or "Giving It Up" plus some ultra funky solos like Alistair White's trombone on "Ain't It Time". I always enjoy the Donny Hathaway-like vocals of Tony Momrelle who does a great job on "It's Just One Of Those Things". Singer Imaani guests on the still magnificent "Still A Friend Of Mine" from their early 90s Talkin' Loud album "Positivity" which is introduced here with a sexy Rhodes. She also sounds amazing on "Rapture".
One track from their very first album from 1980 is featured here as well and it still sounds incredibly fresh today as when it came out as part of the UK Jazz/Funk scene with groups like Light of the World or Beggar & Co.: "Parisienne Girl" includes some fine sax solo and drum work by Francesco Mendolia. Disc 2 starts out with the sympathetic voice of Hamburg's Mo Brandis on the grooving "Goodbye To Yesterday". One of our best vocalists! The deep growl of Carleen Anderson can be heard on "Tin Man" and "Another Way" but she doesn't really convince here. There is also a nice break with George Duke's classic "Brazilian Love Affair".
More vocals come in the shape of the Barry White-inspired Italian soul boy Mario Biondi who does a nice job on the Boz Scaggs classic "Lowdown" and his own hit "This Is What You Are" where he sounds much more comfortable and more at peace with himself than on his own disappointing new album from a few months back. The remaining four tracks here is 70s party and dance material of the highest order: Stevie Wonder's "As" in the hands of the very capable Tony Momrelle, the early 90s hit and cover version of the Ronnie Laws classic "Always There" (always a highlight of their shows), "Never Known A Love Like This" and the Isley Brothers hymn "Harvest For The World" where all the guest vocalists join in again for a rousing finale. Here's to the next 35 years!
Follow:
Share: