Jazz Connect Day 2 and Winter Jazzfest Marathon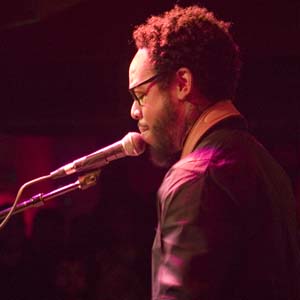 Three artists to watch out for in 2016: KING, Makaya McCraven, and Terrace Martin. Terrace, best known for his production work on artists like Snoop Dogg, Stevie Wonder, Raphael Saadiq, Charlie Wilson, and of course Kendrick Lamar's "To Pimp A Butterfly", played the sax last night on stage at The Bitter End. And he also was stepping up to do some vocals through a vocoder. And yes, he did play a tune from the Lamar album and his weaving in of fat hip hop beats with a heavy jazz backdrop kind of reminded me of early 70s Miles Davis in the way he had his band members structure the grooves and solos. Most notably Taber Gable on keys and Andrew Renfroe on guitar.
Earlier that night at The Bitter End, dynamic young drummer Makaya McCraven again showed a lot of groove and hip hop chops and combined this with some brilliantly executed jazz moments, as can be heard on the Chicago-based musicians "In The Moment" album. And he really blurrs the line here between 70s-inflected fusion jazz and modern in-your-face drumming. The sound of Justefan on vibes and Marquis Hill on trumpet had that very special spirit and vibe of a lively, this-is-how-2016-should-sound-like ethic.
And with the three vocalists/musicians of KING, coming up third on the Revive Music stage last night, I was won over anyway. Twin sisters Amber and Paris Strother and Anita Bias played music from their EP that was released around five years ago and songs from their upcoming debut album (out February 5th). Their absolutely unique soul sound, using synth and key production work from 80s groups like Loose Ends, Mtume, or the S.O.S. Band as a backdrop and combining them with ultra sexy and catchy vocals which sometimes veer towards the ethereal, is totally spot-on and fascinating (they also opened for Prince and can be heard on Robert Glasper's "Black Radio" album).
Earlier that day, during the Jazz Connect conference, various singers gathered on stage to determine what makes a song a standard. Bob Dorough ("I wish I knew"), Mark Winkler, Karrin Allyson, Lorraine Feather, Cyrille Aimée, and Jazzmeia Horn tried to figure out what elements are essential and crucial in that respect and were lively and critically guarded by moderator Roseanna Vitro. Structure, form, and the lyrics of course. But I guess that there also is a certain timeline needed – we will find out in 2132 if Lorraine's "Scrabble" is going to be a standard. Chances seem to be pretty good. Just one of the many panels during that day.
Needless to say, I bumped into a million people and had great conversations and the Brooklyn-based Pilsener that was graciously handed out by our Norwegian friends (there had been a spotlight on the music of Norway this year) was pretty good. It had slightly too much hop in it, but came over smooth and cool.