New York Moments With Becca and Grégoire
It was one of those nights where I thought OK this is only going to happen in New York. When Becca Stevens played her new show last night at one of the stages at Rockwood Music Hall and she asked bassist and singer Alan Hampton up on stage, I kind of knew that we were in for a special treat. And that treat was Stevie Wonder's "As" which turned out to be the most wonderful version of that 1976 classic I've ever heard. The intensity and beauty and sweetness of it was just mind-blowing. She also had young UK sensation Jacob Collier with his totally amazing sound. This prodigy, one of Quincy's discoveries, is certainly one to watch out for. Check out his youtube videos. It is really something.
And earlier that evening, I went to Judson Church on Washington Square to see Grégoire Maret as part of Winter Jazzfest. He had a special programme as well: the Inner Voices, a six-piece vocal choir which served as a stunning Gospel and Soul backdrop to Grégoire's magical harmonica playing. Shedrick Mitchell on the organ was simply preaching his behind off and Burniss Travis on bass and Marcus Baylor on drums were spot-on as well. And then he asked the sensational singer Jean Baylor up on stage for two songs and they've transported the audience to higher ground. Grégoire is coming up with a new album in April, produced by Terri Lyne Carrington with special guests like Dianne Reeves, Ivan Lins, Chris Potter, and Mark Kibble.
Earlier that day, during the APAP showcases, it was a mixed bag as usual. Cyrille Aimée was sitting in on a couple of tracks with guitarist Diego Figueiredo which was nice. With other vocalists, I thought that with their immense pitch and intonation problems, somebody needs to tell them. I've heard a singer where my ears literally started to hurt. Another had severe problems, too, but could at least hold her notes and did an otherwise convincing show. More or less. No, I don't want to drop names here even though I'd like to be as uncompromising as possible on these pages. But what I can say about this particular artist now, also really comes from the heart and soul. I've been following her since the early 90s when she started her recording career. We've met several times over the years. And Vanessa Rubin (there you go), who for some reason hasn't aged a bit, really understood how to put on a show. The singing comes so easy to her it seems. She just oozes class and style and she simply is a wonderful person to be around with. She had Brandon McCune on piano and Lonnie Plaxico on bass and Neal Smith on drums and although her repertoire probably needs to be questioned, she simply is the consummate artist. She did Billie Holiday songs which might be a bit too palpable. But I just think she is adorable.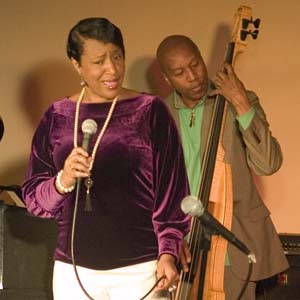 Aimée Mann was on stage as well. Although I really appreciate her original, self-written material, it came across a bit quirky and uneven. But she should certainly stick to that. Her "My Romance" had some breathing in there where I thought this is not natural. I love Deanna Witkowski's piano playing. Full of energy with a powerful attack. I'm not so much into her singing. Her arrangement on "Just One Of Those Things" was superb. And the piano is in very good and capable hands with Australian pianist Matt Baker. Even though he mostly did standards as well, his arrangements were original, inventive, fun. Dale Head and his swinging orchestra revived the Vegas years of someone like Sammy Davis, Jr. Very entertaining. Just not my cup of tea.
So thank you Lauren Kinhan for taking Catherine Mayer and me to Katz's Delicatessen for a monster pastrami sandwich after the Becca Stevens gig and after a quick Brooklyn-brewed beer at Richard Bona's club Bonafide. I'm enjoying my time here immensely as you can guess.