Here's another real vinyl highlight from the magnificent guys at Futuristica Records. French singer, songwriter and producer LaNote (Caroline Marks) releases her new album "Rebirth" with accompaniment and production work by her former band member As Valet who was with her in the group Electric Conversation, sort of the epitome of indie future soul. They released the two albums "Communication" (2007) and "Electric Conversation" (2013), both also on Futuristica.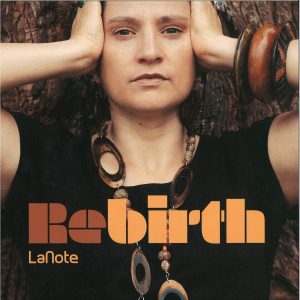 There is a seemingly easy and sophisticated soul backdrop on the mostly midtempo grooves here, like on the first three tracks "Ready Or Not", "One Way", and "Miracle", all of them boasting with utterly relaxing vocals and uber jazz/soul understatement, teaming LaNote's angelic vocals with just minimal backing of sublime keys, bass, and drums. Four songs didn't find the way onto the vinyl version, due to the overall length, but most of them actually did, even though the tracks are almost shockingly short with most of them in the 2-3 minute range.
On the title track, LaNote samples "Arrow Through Me" by The Wings which Erykah Badu also used for her "Gone Baby, Don't Be Long" in 2010. The ultra catchy "Week-End" is featured here on the album with two remixes: a more breakbeatish version by DJ Spinna and a pretty ambient-sounding downbeat version, stripped bare by Dusty from Jazz Liberatorz. Love those handclaps! You might want to compare this to Erykah Badu's style and diction if you need and want a comparison, but LaNote's vision is way down deep in the vaults, more down to the basics, pretty facile and simple, but with a stunning effect. The only real downside on the vinyl is that the wonderful "Music" from the digital version is not included.
On the remix side (also on the vinyl version), "One Way" gets the Mark Rapson treatment which turns out to be a magic moment with its luscious stance, stretching the song to over four minutes. Label head Simon S turns "Miracle" into a 5-minute plus dreamy version, the sort of bliss which actually reminds me of Lisa Shaw and some of the work by Miguel Migs, sans the house beats. For a change in sounds, the vibes opening on "Unity" further enhances the warmly attractive set, if only the songs were a bit longer. On the plus side, this is one of the very few albums which you can listen to from start to finish without having to move the needle.