Lionel Richie Dances All Night Long
For almost two hours, the 65 year old Lionel Richie entertained the almost sold-out O2 World in Berlin last night with all of his hits. At one point, he divided the audience into three groups: those who have been with him since his days with The Commodores, those who came on board when he went solo in the early 80s, and those who come up to him and say that their mother and father are listening to him but don't really know who he is. Well I guess there was nobody in the audience from that third group but Richie simply knows how to connect with his audience as he chatted a lot in between songs, often with witty remarks.
Needless to say that he is still in fine form, vocally and physically. The svelte singer and crooner was convincing in the soul classics from back in the good old 70s like "Brick House", and of course, and maybe mostly, in the midtempo and ballad material of which there was a lot on offer. I often found myself thinking "oh right he wrote that one as well". The show had the right mix of old and new, of danceable singalongs and heart warming ballads. We were treated to everything from "Three Times A Lady" to "Dancing On The Ceiling", from "Endless Love" to "All Night Long". One of my favorite tunes from The Commodores, the still brilliant "Sail On", was done too briefly but he really got me on that one.
I'm not really into his later stuff and thankfully, he only included a couple of those songs like "All Around The World" from his 2006 album "Coming Home" or "Don't Stop The Music" from his 2001 album "Renaissance". He reminded us all of the brilliant songwriter he is and how many timeless songs he wrote over the years. His band was rock solid throughout, among them bassist Ethan Farmer (who will have his own album out next month) and drummer Oscar Seaton. The musical director was none other than the amazing Chuckii Booker who has worked with everyone from Lalah Hathaway to Gerald Albright, from Miki Howard to Angela Winbush, from The Whispers to Barry White. I had the chance to talk to both Ethan (who also has an impressive track record having worked with Patti Labelle, Janet Jackson, Jody Watley, and Babyface) and Chuckii after the show. Chuckii is working on a few new things like a young band from Canada and also his own project and Ethan is coming up with a new album in March.
Lionel concluded his show with three of his biggest hits: "Hello", "All Night Long" and, as an encore, the song he wrote with Michael Jackson 30 years ago this month, a song which has lost none of its timeliness, "We Are The World".
Some of the remaining tour dates are right here. Lionel is touring Europe through the end of March and comes back for various summer festival dates in June and July. Enjoy the show.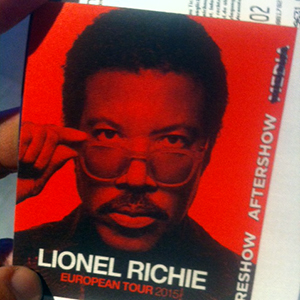 2/19 O2 World, Hamburg
2/21 Falconer Salen, Copenhagen
2/22 Ericsson Globe, Stockholm
2/24 Lanxess Arena, Cologne
2/28 Manchester Arena, Manchester
3/01 O2, London
3/04 First Direct Arena, Leeds
3/06 The SSE Hydro, Glasgow
3/07 Metro Radio Arena, Newcastle
3/10 Odyssey Arena, Belfast
3/11 3 Arena, Dublin
Also coming up: stops in Liverpool, Birmingham, Cardiff, Nottingham, Antwerp, Monte Carlo, Zurich, Munich, Leipzig, Luxembourg, Paris, and London.