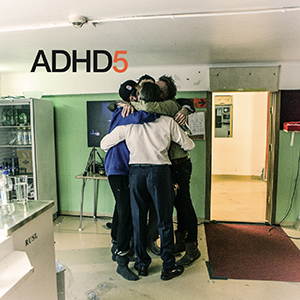 Is there a special sound coming from Iceland? It seems that with their fifth album, the group ADHD prove that there is this typical melange of melancholy, sudden outbursts, and ambient Jazz Rock defining the group's sound and maybe that of the island as well. The group has won the Icelandic Music Award with their first album and album number 5 is again full of surprises. I have no idea what the song titles mean (at least some of them), but what best describes the group's sound is maybe the first track and "Indjánadansinn" with some shuffling and haunting beat provided by sax, piano, and drums to be interrupted from time to time by some stop-time, characteristic features.
Some of the music here is verging on experimentation, like "Afi Palli" with some mean, distorted guitar and effects by Ómar Gudjónsson. Óskar Gudjónsson's sax phrasings are unlike most of what I've heard on this continent: there is always a magic air surrounding his playing which gives the whole atmosphere and mood of the album a somewhat mythic character. Other pieces, like "Jörg Thienelt", can easily hypnotize you with some additional synthesizer (by Davíd Pór Jónsson) added to a guitar/sax melody which moves along almost gracefully.
Rounding out the quartet, which has played together since about 10 years in various projects, is drummer Magnús Trygvason Eliassen. And there it is again, that hypnotizing, mystic character in the repetitive beat of the final track, "Graena Pokan". ADHD play Berlin's XJazz Festival in May, but will also be on tour in late February/early March see tour dates below. Recommended!
2/26 Cologne, Altes Pfandhaus
2/27 Horn-Bad Meinberg, Red Horn District
2/28 Karlsruhe, Tempel
3/02 Pforzheim, Domicile
3/03 Hamburg, Nochtspeicher
3/06 Dresden, Tonne